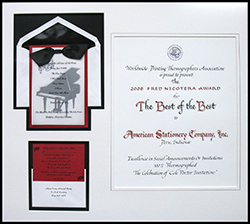 The Celebration of Cole Porter
Peru, IN (PRWEB) July 20, 2009
The 12th Annual Excellence in Thermography Awards were presented at the close of this year's Worldwide Printing Thermographers Association annual conference. Dubbed the "Freddie" awards, after Fred Nicotera, the "Father of Thermography," the awards are given to companies for their use and application of the thermographic process (raised printing) on items in a wide range of categories.
Winning the first place Freddie award for the "Social Announcements / Invitations, 100% Thermographed" category, American Stationery's entry also took home the highest honor of the evening, the Fred Nicotera Award for The Best of the Best. The entry, a gala invitation designed to honor the late Cole Porter, was chosen for the award from over 400 entries in this year's contest.
Contest entries were judged at the WPT headquarters in Nashville, TN and displayed at the conference before the awards dinner on Saturday. "To have this work selected by our industry as the Best of the Best is a great honor," says Guy Luttrell, V.P. of Production. "This award recognizes our company and its owners, the Bakehorn family, as leaders in quality printed products. Most importantly, it recognizes our employees for their hard work and ability to produce the highest quality products for our customers. We are all extremely proud!"
The Worldwide Printing Thermographers Association is the trade association established in 1997 to promote and advance the art of thermography printing and the use and application of the thermographic process. One mission of the WPT is to help raise product quality standards in the thermography printing industry.
Founded in 1919, American Stationery provides quality wedding invitations, stationery and other personalized products. A family-owned manufacturer located in Peru, Indiana, they have served generations of satisfied customers with their quality and value.
"The Celebration of Cole Porter" was originally designed by American Stationery for the Cole Porter Birthplace Restoration Committee. The winning entry was produced on a combination of Neenah Paper and Astro Converters Specialty Paper, printed with Printware plates and thermographed on a Sunraise Thermography oven using Faust powders.
For additional information, visit http://www.americanstationery.com.
###