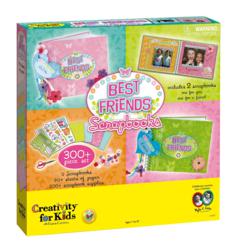 (PRWEB) October 07, 2011
Creativity for Kids is excited to announce that two craft kits received a Platinum Award from Oppenheim Toy Portfolio. This is the highest award given by this organization to recognize outstanding products in the marketplace. Each product is carefully considered and tested by educators, parents, and kids to determine which provide enriching and engaging play experiences for children. The review process aims to discover products that are entertaining and encourage learning, plus are well designed and safe for children to use.
And the 2011 Platinum Award goes to:
Best Friends Scrapbooks allows girls to enjoy doing scrap booking with their BFF. This complete set comes with 2 scrapbooks, so each girl can each design their own book to preserve photographs and memories of fun times together. Each scrapbook has 10 pages – girls can use the patterned paper, glitter stickers, ribbons, rhinestones, and fabric flowers to design 20 personalized layouts. Scissors, stencils, and a journal pen also included. $29.99, age 7 & up
Kids can craft optical effects with a kaleidoscope they build themselves. The Make Your Own Kaleidoscope kit includes everything needed to make a 7 5/8" kaleidoscope. Kids can decorate the kaleidoscope with mini markers. The refillable chamber lets kids change what they view with a variety of vellum paper designs and other colorful craft items. $12.99, age 5 & up
All Creativity for Kids products are fully compliant with current U.S. toy safety standards.
2011 is a milestone year for our company as we celebrate 35 years of Creativity for Kids! We are proud to consistently provide a quality experience in all areas of business, particularly in developing innovative, high quality arts & crafts products for children. Our products are available all over the world, giving children the opportunity to create, pretend, and play in ways that encourage self-expression and build self-esteem.
About Oppenheim Toy Portfolio: Founded in 1989 by child development and toy experts, Joanne Oppenheim and her daughter Stephanie Oppenheim, as the leading independent guide to children's media. The organization does not accept entry fees for reviewing products. All award winners are reviewed by the Oppenheims for age-appropriateness and fun. Products are further tested by their network of kid testers all over the country. The Oppenheims are contributors to NBC's TODAY Show. The Oppenheim Toy Portfolio Platinum, Gold, Blue Chip and SNAP Awards are on their website, http://www.toyportfolio.com.
###