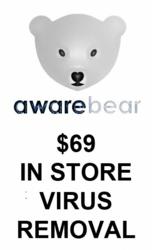 Aware Bear Computers Summer Specials for 2012, $69 In Store Virus Removals.
Rochester, NY (PRWEB) June 12, 2012
"According to the Rochester Business Journal (RBJ), Aware Bear Computers is in the top computer stores in the greater Rochester, New York area. Aware Bear offers virus removal services for all the major computer brands: Compaq, Gateway, Acer, Dell, HP, IBM, Sony, IBM, Lenovo, Toshiba and custom built computers. Windows XP, Windows Vista and Windows 7 are supported" said Andre Alves, owner and founder of AwareBear in New York.
Aware Bear Computer techs have over 15 years of professional experience, when it comes to computer service, repair and virus removals. AwareBear will be offering the $69 in store virus, spyware and rootkit removal specials in Rochester till the end of the 2012 summer. Besides virus and spyware removals, Aware Bear Computers offers expert support to: home-based, small and medium-size businesses, as well as to individual clients in New York. Aware Bear's knowledgeable technicians can provide same day in-home service.
AwareBear offers fast turnarounds on all computer virus removals, repairs and services in Rochester, New York. "No computer sits at our shop forever before it gets a diagnosis and the customer is called with results. Most companies charge a minimum of 2 hours for their services, even if the work took only 15 minutes. Aware Bear Computers always offers in store flat fees in order to make computer virus removal, computer repair and computer services fair and affordable in Rochester, New York.
Aware Bear Computers also will install the latest antivirus software on every desktop and laptop computer that gets a virus removal. "By installing a fresh copy of the latest antivirus on our customer's gives everyone the peace of mind and the protection in order to avoid future virus problems. AwareBear Computers always walks the extra mile in order to provide customers with the best computer virus removal, service and repair in Rochester" said Andre Alves from Aware Bear Computer Repair in NY.
For more information on computer repair, computer service and computer virus removal, please visit Aware Bear Computers official website: http://awarebear.com or Aware Bear's official BLOG page: http://awarebear.com/blog. Everyone is welcome to call (585) 473-7035. AwareBear is open Monday – Friday 10am to 6pm and Saturdays 11am – 3pm. Closed on Sundays and major holidays.