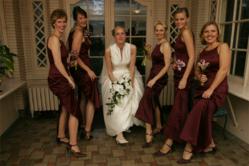 Affordable and professional wedding photography services in New York.
(PRWEB) September 16, 2012
Aware Bear Pittsford is expanding its affordable wedding photography services from Rochester to other areas in New York. Wedding planners, brides and grooms and parents can now take advantage of Aware Bear Photography's wedding photography packages.
"Your wedding day is the most important day of your life; you have planned this day for as long as you can remember. The wedding photography should not cost you a fortune and you should not have to compromise quality by using a cheap wedding photography service that probably will do an average job on your wedding photos" says Andre Alves from Aware Bear Pittsford Wedding Photography. "Wedding photographers have been overcharging for their services, for way too long. Aware Bear Pittsford offers brides and grooms affordable wedding photography in Rochester, NY without having to sacrifice quality."
Aware Bear Wedding Photography Packages were designed for the bride and groom that are looking for a great wedding photography service at a reasonable price. Having a flat rate price helps everyone with the wedding planning. Wedding flat rate prices takes the guess work away from the wedding planning and gives the bride and groom a chance to use a professional wedding photographer at the best possible price. For more information please visit Aware Bear Wedding Photography website.
Aware Bear Wedding Photography Flat rate prices gives parents, wedding planners, wedding reception consultants and brides and grooms total control of their wedding photography budget. Aware Bear Wedding Photography all inclusive package, starts at ($1500).

Eight hours of wedding photography coverage
One photographer and two cameras
Unlimited variety of traditional and photojournalistic images
Ready to print DVD with High Resolution Images
Facebook Ready Images
Professional Photographer's release
(Aware Bear Wedding Photography also offers four hour packages for smaller weddings and wedding receptions only.)
Aware Bear Pittsford Photography's wedding photography service is available throughout cities and towns in the greater Rochester metro area, including Pittsford, Fairport, Penfield, Brighton, Mendon, Perinton, Victor, Rush, Buffalo, Syracuse, and elsewhere. For more information about our wedding photography services, please visit our website at http://awarebearphoto.com or call 585-473-7035 for an initial no-charge consultation.