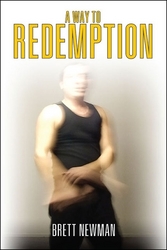 When you are feeling down and depressed, please remember that tomorrow is a different day and you don't know what you will be doing in a years time
(PRWEB) March 29, 2011
Brett Newman's first book, A Way To Redemption, was written over a time period of 15 years, a journey that took him from a small country town to the illustrious city.
From an inexperienced easily excitable young adult, to a perspective that has been acquired with age, knowledge, endurance and spiritual guidance.
Brett Newman started writing with the hope that one day his words might be able to help others, Brett's way to redemption gives insight into the deadly depths and the story of his psychotic episode. He also opens up his guilt-driven by addictions, desires and lustful indulgences. He opens up his secrets, heartaches, anger, despair and tears. He opens up his heart and soul, his desperate need for help. He opens up how he was saved, and he opens up to you.
Brett says, "I hope my written testimonial helps others. I want people to realize that even if we have done major things wrong, if we are truly sorry in our hearts, we can be forgiven. Redemption is offered to all of us. It is a spiritual conversion. If we honestly seek forgiveness, it will be given to us by the Spirit of the Almighty."
Brett lives in Christchurch, New Zealand, with his lovely lady Leeanne and his big brilliant dog Doofy.
Redemption is defined as being redeemed. It can also be defined as the act of delivering one from sin, or being saved from evil. A Way to Redemption is all that and more.
A WAY TO REDEMPTION (ISBN: 978-1-60976-771-6) is available now for $12 and can be ordered through the authors website:
Authors website:
http://www.sbpra.com/brettnewman/
Wholesalers please email BookOrder(at)AEG-Online-Store(dot)com
###