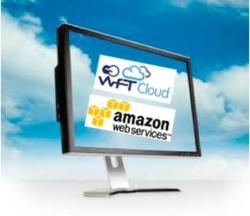 WFT / AWS Colloborative partnership will enhance greater business value to enterprise customers on cloud
Princeton, NJ (PRWEB) April 20, 2011
Wharfedale Technologies, Inc. (WFT), a leading technology consulting firm specializing in infrastructure integration in the implementation and support of Private Cloud (VPC), Public Cloud or Hybrid Cloud Services and Virtualization, today proudly announced it is now an Amazon Web Services (AWS) System Integration Solutions Provider Partner.
WFT will deploy a core of ERP solutions to the ECO-System for Amazon clients. "Providing a high level of solutions and ensuring prominent-quality standards and services in support of Amazon Web Services (AWS) present a tremendous opportunity for Wharfedale and Amazon's clients; to deploy and manage their business critical ERP applications with complete confidence for control, security and transparency," said Ganesh Radhakrishnan, CEO of Wharfedale Technologies Inc. (WFT).
WFT has a well-known reputation for its track record in creating innovative infrastructure solutions for its clients, to minimize downtime and achieve optimal performance while maximizing their Infrastructure ERP investment. As a solutions provider to AWS, WFT has the capability to offer expertise in presenting a broad portfolio of innovative options for companies to extend their data center to cloud, increase agility and take advantage of an on demand and virtualized infrastructure, that can provide application computing and storage resource availability with built in resiliency. Cloud computing represents a paradigm shift in the way progressive companies allocate IT resources. It allows the client to build the perfect cloud environment, with no risk in any single point of failure for Production and Non-Production landscapes to match workload requirements when processing simple to complex business processes.
WFT can help create cost effective solutions for companies to leverage existing investments in ERP solutions by moving to a scalable, flexible and more automated environment within AWS. AWS suite of product enables one to realize efficiencies, cost reduction benefits and other advantages including the ability for a company of any size to leverage their cloud support for the demands of their business regardless if it is in compliance, security, and scalability dimensions.
About Wharfedale Technologies, Inc.
WFT is a leading professional IT Services consulting firm specializing in Cloud infrastructure integration and support. Wharfedale Technologies (WFT) implements and supports Virtualization, Private Cloud / Public Cloud / Hybrid Cloud Services. As an SAP first certified provider of cloud services, it also offers the following services in support of SAP® solutions: high availability, SAP disaster recovery, advanced sizing for virtualization, back-up / recovery integration, systems refresh automation and SAP Landscape Optimization. For more information on WFT services, visit http://www.wftus.com or http://www.wftcloud.com or call (888) 533-3113.
About SAP
SAP and all SAP logos are trademarks or registered trademarks of SAP AG in Germany and in several other countries. All other product and service names mentioned are the trademarks of their respective companies.
WFT / WFTCLOUD is a registered trademark of Wharfedale Technologies Inc. All other trademarks are property of their respective owners. Other product or company names mentioned may be trademarks or trade names of their respective companies.
###