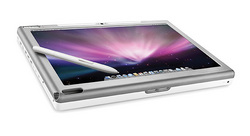 El Segundo, CA (PRWEB) June 11, 2008
High-tech solution hardware provider Axiotron, Inc. ("Axiotron") announced today that the TSX Venture Exchange has conditionally approved a proposed transaction with Toronto-based Vendome Capital Corp. ("Vendome") that, subject to the deal's closure, would raise at least $5 million and authorize Axiotron's shares to trade publicly at the TSX Venture Exchange in Toronto, Ontario.
Under the proposed transaction, the operations of Axiotron would be folded into Vendome -- a capital pool company with cash assets but no operations -- and the resulting company would be renamed Axiotron Corp. Shares of Axiotron Corp. would then be listed on the TSX Venture Exchange, one of Canada's two major stock exchanges. Axiotron anticipates the proposed transaction will close by June 30, 2008, conditioned on final approval from the TSX Venture Exchange.
Axiotron Corp.'s operations and corporate headquarters would remain at their current location in El Segundo, California.
Net proceeds from the proposed transaction would be used to finance continued production of the Modbook -- Axiotron's award-winning tablet Mac computer -- and for general working capital purposes and product development initiatives.
Providing continuation of the vision and leadership that has guided Axiotron for over three years, Andreas E. Haas, the founder and current chief executive officer of Axiotron, would become the CEO of Axiotron Corp. Claude Ayache, the current president and chief financial officer of Vendome, would be appointed as the CFO of Axiotron Corp. Both Mr. Haas and Mr. Ayache would also serve on Axiotron Corp.'s board of directors. Mark Lawrence -- the managing partner of the Toronto and Ottawa, Ontario-based business advisory and corporate finance firm NorthCrest Partners Inc. -- would become chairman of the board of directors of Axiotron Corp.
As part of the proposed transaction, Axiotron has engaged Toronto, Ontario-based investment dealer Fraser Mackenzie Limited as the lead agent to raise at least $5 million in a concurrent private placement. Also participating in the concurrent private placement are Toronto, Ontario-based investment banks Dominick & Dominick Securities Inc., and M Partners Inc.
Interested parties wishing to get more information about the concurrent private placement should contact Philip W. Benson of Fraser Mackenzie Limited at (416) 955-0990, ext. 233.
Documents relevant to the proposed transaction can be found under Vendome Capital Corp. at SEDAR, the document filing and retrieval website for Canadian public companies.
About Axiotron, Inc.
A high-tech solution hardware manufacturing company and an Apple Premier Developer, Axiotron, Inc. is the maker of the Modbook™, the one and only tablet Mac solution. Following its unique vision of Customizing Your World™, Axiotron is dedicated to becoming a leading high-tech innovator through the conception and development of intriguing digital lifestyle products. In addition, Axiotron offers its product development expertise to companies in need of custom hardware solutions. Founded in January 2005 and privately held, Axiotron is a Delaware corporation headquartered in El Segundo, California, USA.
The TSX Venture Exchange Inc., has in no way passed upon the merits of the proposed transaction and has neither approved nor disapproved of the contents of this news release.
This news release does not constitute an offer to sell or the solicitation of any offer to buy any securities of Axiotron, Inc. or Vendome Capital Corp. in any jurisdiction or to any person to whom it is or would be unlawful to make such offer or solicitation. Any securities that may be offered will not be and have not been registered under the Securities Act of 1933 or qualified under applicable state securities laws and may not be offered or sold nor distributed in the United States or to residents of the United States.
###