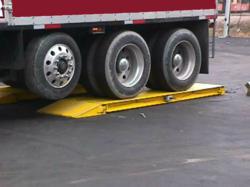 Being over on an axle weight directly impacts profitability when you factor in the labor costs of having to physically rearrange a load after the fact.
Germantown, MD (PRWEB) September 14, 2011
The Syntelic truck load diagramming solution used by some of the top names in the Transportation Topics Top 100 private fleets, now includes a way to spot axle overweight issues at a glance. National and state highway regulations limit the amount of weight that can be loaded over an axle in a tractor trailer. Syntelic software factors in these axle-weight limitations when generating optimized load plans for distribution companies. Syntelic optimizes outbound loads using algorithms to account for multiple delivery stops, product rules, and axle weight limitations.
New data visualizations within Syntelic's load planning tool show axle weights as green when under weight, yellow when close to being overweight, and red when over the limit. By dropping and dragging cases from one pallet position to another, it is possible to easily bring axle weights within regulation, while keeping the load plan optimized for multiple delivery stops.
"Being overweight on axles directly impacts profitability when you factor in the labor costs of having to physically rearrange a load after the fact not to mention fines," says Scott Balthaser, Syntelic Solution Corporation's Vice President of Sales and Marketing. "You don't want to have to weigh every load. Instead, you should trust your load mapping solution to account for axle weight limitations automatically. Syntelic does that with assurance."
Accurate, printed load diagrams produce better results for loaders, supervisors, and drivers. Syntelic's easy-to-understand load diagrams take far less time to create than manual processes. They let managers focus on managing instead of drawing, loaders focus on loading, and drivers account for every part of every order as they unload at customer locations.
About Syntelic
Some of the largest and most successful distribution companies in the United States rely on Syntelic's focused distribution solutions to analyze data from multiple systems and drive daily warehouse and transportation activities. Since 1996, Syntelic Solutions Corporation (a Microsoft Certified Partner and Vocollect Business Partner) has offered supply chain solutions that enhance operational visibility, unlock process improvements, and give users flexible analytical tools to make better decisions. Two of the Transportation Topics Top 5 companies with private fleets employ Syntelic in their daily supply-chain operations.
###