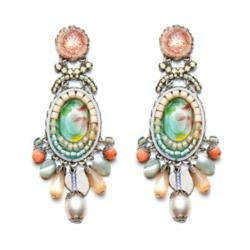 Setty Gallery carries a unique selection of handmade designer jewelry from around the world, providing an unforgettable jewelry purchasing experience!
Highlands Ranch, Colorado (PRWEB) January 31, 2012
The foremost online source for unique handmade designer jewelry, Setty Gallery, is unveiling the new Ayala Bar Spring 2012 collection, available immediately through their online store. Handmade designer jewelry enthusiasts looking for an inspiring look for the spring will not be disappointed. Ayala Bar Jewelry has a unique and stunning style – which has been referred to as a fusion of Middle East and Art Deco. The Spring 2012 collection represents one of the most unique that Israeli Jewelry has to offer.
This Spring 2012 collection includes almost twenty unique styles, each with its own special look. The spring rain style items combine unique fabric compositions with glass, stones, crystals and metal with colors of stormy sky dusky blues and bright spring flower like orange. The Jalapeno style items provide a spicier look with dominant colors of bright red and golden yellow. The Bloom style items integrate beautiful mosaics combining colors in a special and exciting way over silver plated metal with accents of roses and pewter charms. Each style is uniquely artistic and inspiring.
Ayala Bar is one of the most premier Israeli jewelry designers. From her studio in Givata'im, a suburb of Tel Aviv Israel, she designs unique jewelry with glass beads, mineral stones, swarovski crystals, and other natural elements. In recent years, the artist has been releasing two collections each year, one towards the spring and one towards the fall. Her jewelry can be found in museum stores worldwide, such as the Jewish Museum of New York City and the Museum of Fine Art in Houston, as well as exclusive boutiques and art galleries across the globe.
About Setty Gallery: Setty Gallery carries a large online selection of Ayala Bar jewelry such as Ayala Bar Fall 2011 and Ayala Bar Spring 2011 and discontinued previous season items at unique 20-50% discount. Operating from the foothills of the gorgeous Colorado Rocky Mountains, Setty Gallery is an online jewelry store that features handmade jewelry from leading designers around the world. Designers available include: Ayala Bar, Michal Negrin, Orna Lalo, Elisabetta Ricciardi, Leetal Kalmanson and more. Since 2005, the company's has strived to provide each one of its customers around the world with the absolute best jewelry purchasing experience possible. Place your order online or telephone the company's customer service department at 800-216-8066. Follow them on Facebook and Twitter for special discounts and the ultimate online jewelry shopping experience.
###