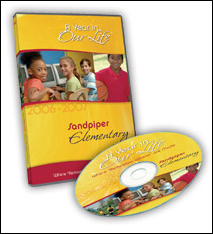 A difference with our www.ayearinourlife.com [
Fort Lauderdale, FL (PRWEB) September 1, 2006
"A Year in Our Life"™ makes it easy to "Always be forever young in the movies of your life," said Jerry Windle, CEO of Windwards Motion Graphics & Video. Inspired by the adoption of his Cambodian son, Jordan and the loss of his mother at an early age, Windle wanted to find a way for his memories to endure through time and not be stored in a book or a shoebox. He wanted those special moments to be captured in a multi-dimensional true-to-life film format. "A Year in Our Life"™ movies now give the local public access to capturing important firsts (marriage, birth, adoption) and other memories with a true movie feel without the Hollywood budget. Purchasers receive a secure web page for their use to upload pictures, video and audio; all of which can also be mailed. The typical film runs for forty five minutes to an hour. Each movie is methodically made similar to a Hollywood production. Every project is created by an editing team, music composers, graphic artists and production staff. Forget the days of slideshows with simple transitions and effects, "A Year in Our Life"™ will make you the star of your own movie.
"A difference with our "A Year in Our Life"™ productions is that we can take random events in someone's life and place them in the eyes of a filmmaker. It is not simply a slideshow set to music," said Windle.
Schools can also use the movies as a supplement to, or a replacement of their yearbooks and utilize it as a fundraiser for the year. Schools receive between 15-20 percent profit of their sales. Additionally, each school receives a complete marketing package at no cost.
"When I first announced to our students, staff and parents that we were "making a movie" the excitement level immediately increased at our school. Suddenly people began seeking out the cameras and interacting with groups in an outgoing and positive manner. A new, fun, buzz spread across our campus. Many stakeholders were saying that they wanted their "own paparazzi"- and "A Year in Our Life"™ made that search for stardom a reality for everyone at the school," said Principal Mark Strauss of Virginia Shuman Young Montessori Magnet Elementary School.
Windle, along with his business partners, Jason Edwards, Editor and Composer and Fabio Storti, Creative Art Director, have also taken their venture to the medical industry. The deployments of such products have demonstrated to spark memories for Dementia and Alzheimer patients.
According to Lori Glassie, PA, Geriatric Psychiatry Physician Assistant "A Year in Our Life"™ DVD's combine family photos, video and meaningful music -- three modalities shown to spark memory and improve the quality of life for dementia patients and their caregivers, into an interactive, multi-sensory movie. It is an invaluable therapeutic tool for family members of loved ones with dementia as well as professionals in the field."
The company archives all videos and photos so if purchasers lose their movies, they can always be reproduced. After the movie project is completed the purchaser receives all their materials back.
Said Windle, "The fact that we archive means as long as our company is in existence, we can always be "the keepers of their memories." Windle added, "We don't sell them, nor do we claim any copyrights to the movies we make."
For more information, press only:
Marjuree A. Larin, 954-549-0724
For more information about the company contact:
Jerry Windle, 786-423-7547
###