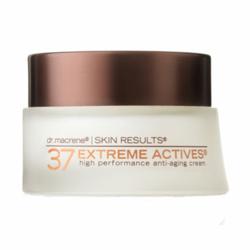 This state-of-the-art skincare product combines more than 50 of the safest and most potent anti-aging ingredients at high enough levels to produce truly visible results — without toxins, and without causing any irritation or breakouts.
San Francisco, CA (PRWEB) October 11, 2012
Ayla (aylabeauty.com), an online skin care boutique, has partnered with dermatologist Macrene Alexiades-Armenakas to offer its customers the updated formula of her cult favorite anti-aging cream, 37 Extreme Actives. Dr. Alexiades-Armenakas will also join Ayla's panel of expert skin care advisors, sharing exclusive anti-aging skin care tips on aylabeauty.com. This partnership adds to Ayla's suite of naturally effective skin care products as well as its compilation of expert skin care advice.
"We are very excited to offer 37 Extreme Actives on aylabeauty.com," stated Dara Kennedy, founder of Ayla. "This state-of-the-art skincare product combines more than 50 of the safest and most potent anti-aging ingredients at high enough levels to produce truly visible results — without toxins, and without causing any irritation or breakouts. It's the perfect solution for customers who want to simplify their skincare routine while at the same time getting the best results possible. As an added benefit, the insider tips we provide from Dr. Alexiades-Armenakas ensure that our customers will get the most out of this fantastic product."
Macrene Alexiades-Armenakas, who holds a BA, MD, and PhD from Harvard, has a unique scientific and clinical background that allows her to proficiently identify and evaluate the effect of active molecules on skin. She designed 37 Extreme Actives to provide consumers with a safe, highly effective, and simple anti-aging skin care solution. This single product features high concentrations of actives that have been clinically proven to significantly reduce wrinkles, diminish brown spots and redness, and repair sun damage while providing skin with powerful antioxidants, collagen boosters, barrier fortifiers, and moisturizers.
"I'm particularly impressed with this product because it features a unique, patented delivery system to ensure that all of its active ingredients get exactly where they need to go in order to effect real change in the skin," says Kennedy. "And, once opened, it also stays fresh and potent longer than any other antioxidant-rich product."
The 37 Extreme Actives formula is updated on a regular basis with the latest anti-aging ingredients. The new formula includes peptides to significantly reduce wrinkles and crows' feet; Glucosamine, Mushroom extract, and Arginine to reduce hyperpigmentation; Ferulic Acid, Vitamins C & E, and Resveratrol to provide antioxidant protection; Bisabolol, Coffee, Yerba Mate, and Feverfew to reduce redness; and Plankton, Blue algae, and Micrococcus to repair sun damage. Seekers of natural anti-aging skin care solutions will appreciate the fact that 37 Extreme Actives is made in the USA from USA-sourced ingredients that include USDA-certified organically grown plant extracts, and it is free of fragrance, parabens, prolylene glycol, and animal and human derived ingredients.
aylabeauty.com is the first retailer to sell the updated 37 Extreme Actives formula in a new 1 oz size. The product is available in two formulations: 37 Extreme Actives is suitable for balanced to oily/combination skin, while 37 Extreme Actives Extra Rich is suitable for balanced to dry skin. Both SKUs are priced at $195. Kennedy notes, "This is one of the higher-priced items we carry at Ayla; it is very costly to produce given its concentration of active ingredients — including organic anti-aging plant extracts — and its patented delivery system. But, since this single product replaces your daytime and nighttime moisturizer, eye cream, and any anti-aging serums you might use, it may end up saving you both time and money in the long run."
Dr. Macrene Alexiades-Armenakas, creator of 37 Extreme Actives, states, "Given its commitment to customer skin care education, personalized advice, and smart sampling, aylabeauty.com is an ideal partner for 37 Extreme Actives. I'm very excited to work with Ayla, and I'm confident that their team will help their customers get the most out of this product."
Those interested in learning more about or purchasing 37 Extreme Actives can visit aylabeauty.com.
About Ayla
Ayla is an online beauty retailer that offers consumers personal guidance for skincare that works. To ensure its customers get healthy, great-looking skin from the inside out, Ayla combines the best natural, organic, and "nasty-ingredient-free" products with expert recommendations and holistic skincare advice. Since 2011, aylabeauty.com has built a loyal following for its highly personalized and convenient experience. Ayla is a privately held company with headquarters in San Francisco, CA. For more information, visit aylabeauty.com.