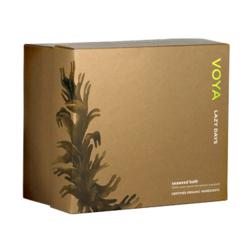 VOYA organic skin care treatments blend the finest natural ingredients with wild seaweed extracts. VOYA dehydrates seaweed within hours of its harvest to ensure that its full recuperative power is preserved.
San Francisco, CA (PRWEB) April 16, 2013
Ayla (aylabeauty.com), an online natural skin care boutique, is bringing VOYA skin care to the broader US market. VOYA is a family-owned Irish business that has developed the world's first range of certified organic seaweed based products. Utilizing generations of acquired wisdom about the sea, VOYA's natural beauty products are designed to purify the skin and body.
"aylabeauty.com is delighted to be VOYA's first online retailer," stated Dara Kennedy, founder of Ayla. "These organic skin care products, which are currently only carried in the US in high-end spas, are exceptional. Every product in the line features certified organic seaweed from the coast of Ireland — seaweed which has been sustainably hand-harvested and prepared for formulation within two hours in order to harness its full detoxifying and anti-aging power. Seaweed is nature's most powerful antioxidant, and it helps a variety of skin conditions ranging from aging to cellulite to eczema."
Inspired by the long-standing local traditions of seaweed baths in Strandhill County, Ireland — first established in 1912 — VOYA organic skin care treatments blend the finest organic ingredients with the family-owned company's natural seaweed extracts. Due to VOYA's practice of dehydrating the seaweed within hours of its harvest, the algae's cell structures are left intact and harmful preservatives are not necessary in the company's formulations. As a result, the full recuperative power of wild seaweed is preserved in the products so that users can benefit from the maximum amount of vitamins, minerals, and proteins. Additionally, VOYA uses only sustainable harvesting practices to protect the delicate coastal environment.
"This very special, unique line of natural skin care products will be a great addition to aylabeauty.com," notes Kennedy. "The range includes organic body care such as Lazy Days, an extraordinarily powerful detoxifying seaweed bath, as well as a suite of organic facial skincare products, such as Cleanse and Mend Anti-Aging Cleanser, Me Time Moisturizer, and Love A Scrub, which all contain a very high concentration of anti-aging seaweed extracts as well as organic collagen enhancers and restorative botanicals. These skin care products not only smell and feel luxurious, but also deliver clear results. We expect them to be top sellers."
Ayla (http://www.aylabeauty.com) is thrilled to make this powerful line of organic skin care products available to US consumers starting in April 2013. Those interested in learning more or purchasing VOYA can visit aylabeauty.com.
About Ayla
Ayla is an online beauty retailer that offers consumers personal guidance for natural skincare that works. To ensure its customers get healthy, great-looking skin from the inside out, Ayla combines the best natural, organic, and "nasty ingredient-free" products with expert recommendations and holistic skincare advice. Since 2011, aylabeauty.com has built a loyal following for its highly personalized and convenient experience. Established in 2011, Ayla is a privately held company with headquarters in San Francisco, CA. For more information, visit aylabeauty.com.