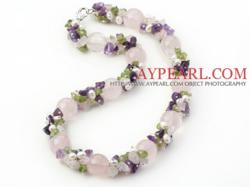 New Rose Quartz Necklace Announced by Aypearl.com
(PRWEB) May 18, 2013
Aypearl.com, an innovative leader in developing products announced a new rose quartz nacklace. This new necklace uses rose quartz, pearl and amethyst beads. This rose quartz necklace's ID is X1704, it's length is 17.7 inch and weight is 140g.
"We designed this rose quartz necklace to give the fastest pain relief. For those unable to experience our brief demonstration, this rose quartz necklace is available at aypearl.com." Said Zhang Yong, CEO of Aypearl.com.
Rose quartz is the love stone! It symbolizes relationships, compassion and forgiveness. Rose quartz replaces negativity with harmony. It helps to balance the upper four chakras and eases sexual/emotional imbalances. Rose quartz enhances self-confidence and creativity.
About Aypearl.com
As the famous and leading china jewelry supplier, Aypearl values each customer's satisfaction and requirement. High quality, reasonable price, good customer service, fast shipping are good reasons for choosing Aypearl. There are more than 10000 styles of jewelry on Aypearl. Welcome to wholesale jewelry from Aypearl.com .
This rose quartz necklace information can be found at: http://www.aypearl.com/wholesale-crystal-jewelry/wholesale-jewellery-X1704.html