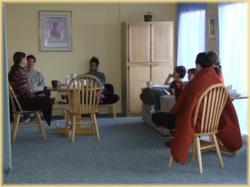 Ayurvedic training online now offered at the Ayurveda Insitute in California in 2013
(PRWEB) May 25, 2013
Ayurveda is the traditional medicine of India. Translated from the Sanskrit, Ayurveda means "knowledge or wisdom of life". While a medical science, its scope enters into the realms of the spirit and the transformation of consciousness. Its fundamental philosophy is that disease is the end result of living out of harmony with our environment. It believes that in order to re-establish optimal health, we must discover where we are living out of harmony and then adopt a life style which brings us back into harmony.
The California College of Ayurveda is the first state-approved college for the study of Ayurvedic medicine in the United States. Committed to excellence, the Ayurveda School offers a variety of training programs. The courses available for 2013 are:
Ayurvedic Health Educator (Ayurveda studies level I)
Herbal Apprenticeship Certificate Program
Ayurvedic Yoga Therapy Certification Intensive
Ayurvedic Massage training & Body Therapy Training Course
Marma Therapy Certification
Panchakarma Specialist Certification Course
Yoga Nidra Teacher Certification Course
Cursos Ayurveda - Education offered in Latinoamerica
The Ayurvedic Health Educator program is available for the student wishing to integrate their training in Ayurveda with an existing health care degree, massage or yoga certification, or to receive the knowledge for personal growth and/or self-healing. The training can be combined with our Ayurvedic Massage and Body Therapy certification, allowing graduates to become licensed Massage Therapists in the state of California and perform Ayurvedic massage and spa therapies.
Enrollment is now open for 2013. For more details please visit AyurvedaCollege.com or call 530 478 9100.