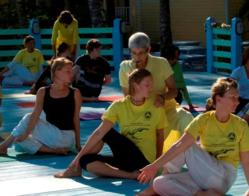 Nassau, Bahamas (PRWEB) February 12, 2013
The program is offered March 18 - 29, 2013 in Nassau, Bahamas. The program allows students to learn how to teach individualized and group Yoga programs based on the nature of the student's Ayurvedic constitution and imbalances.
The course emphasizes the energetics of each asana and each form of pranayama, so that the pose and the breath can be used to support balancing the physical and subtle energies of the body and mind, to help heal the client. Certified Ayurvedic Yoga Therapists conduct Vata, Pitta and Kapha balancing Yoga classes. They can then work on their own to support the healing process, hold classes in studios or work as a part of an integrative team in a healing center.
Students of this course will study:
Foundational Ayurvedic Principles
Ayurvedic Lifestyle
Ayurvedic Psychology
Energetics of Asana & Pranayama
Vata, Pitta and Kapha Yoga Asana Classes
Yoga Nidra for Health
Pratyahara as a Healing Tool
Introduction to Ayurvedic Diet and Nutritional Concepts
About the instructor
Dr. Marc Halpern D.C., C.A.S., P.K.S., Sivananda yoga teacher, is one of the most respected teachers of Ayurvedic Medicine in the United States. Founder and President of the California College of Ayurveda and co-founder of the National Ayurvedic Medical Association and the California Association of Ayurvedic medicine, Dr. Halpern has been instrumental in bringing Ayurvedic medicine to the West. He is the author of two textbooks, and the recent book, Healing Your Life: Lessons on the Path of Ayurveda, an advisor to Ayurvedic journals in India and the United States and a recipient of the Best Ayurvedic Physician award. Dr. Halpern is one of the few Westerners recognized as an expert in Ayurveda internationally. Dr. Halpern's background as a Chiropractor and Yoga teacher and his post-graduate certification in holistic medicine have given him a broad and unique understanding of the path of Self-healing.
Dr. Halpern will be assisted by Sri Devi (Marisa Laursen), CAS, AYT.
Located across the bay from Nassau, on one of the finest beaches in the world, the Sivananda Ashram Yoga Retreat is an island paradise with a tropical garden, crystal clear water and pure white sands - a true sanctuary of peace and natural beauty. Recognized amoung world Yoga Retreats, the ashram offers year-round programs presented by world renowned speakers, as well as certification courses on various yoga related topics through which you can expand your knowledge, gain a new skill and get certified while enjoying a joyous yoga practice and blissful relaxation. The retreat center also offers year-round Yoga teacher training programs
The course is open to all. It is ideal for Yoga teachers, Yoga practitioners and people with a background in the healing arts. For more information, please call 1-866-446-5934 or visit sivanandabahamas.org