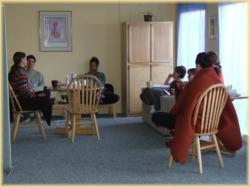 The program offered by this ayurvedic institute is the most complete offered in the nation.
San Francisco, CA (PRWEB) December 04, 2012
Ayurvedic education in 2013 can begin with the Ayurvedic Health Educator program or the Foundations of Ayurveda course at the California College of Ayurveda. Both programs are available in the distance learning format.
Ayurveda is the ancient and traditional medicine of India. A holistic form of medicine, Ayurveda focuses on creating an optimal environment within the body for healing to take place. The goal of Ayurveda is to support the body's internal healing capability. The science of Ayurveda views the human being as a dynamic, life affirming organism that in its natural state is healthy, free from disease and at peace with life. Optimum health occurs when the natural process of the body are not interfered with. This happens without effort when the human being is living a harmonious life.
Disharmony of any kind, physical, mental, emotional or spiritual is the cause of disease from an Ayurvedic perspective. Disharmony occurs when a person is out of tune with the environment or other people. In order to maximize the healing capability of the body, the Clinical Ayurvedic Specialist (C.A.S.) helps their clients reestablish harmony through learning to follow a healthy lifestyle.
Established in 1995, the California College of Ayurveda is the longest running, State-approved college offering professional Ayurveda training programs for the study of Ayurvedic Medicine in the West. CCA offers a comprehensive curriculum, with three levels of programs leading to certification as a Clinical Ayurvedic Specialist (C.A.S.) The program is available in Spanish via Escuela de Ayurveda de California (see Ayurveda Mexico). For more information please visit ayurvedacollege.com or call 530 478 9100