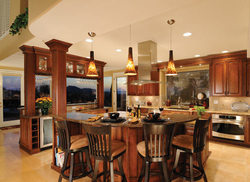 Scottsdale, AZ (Vocus) May 18, 2010
Arizona home remodelers, Republic West, is proud to announce its fourth consecutive Angie's List Super Service Award.
The Angie's List Super Service Award is given to companies who achieve and maintain a superior rating with Angie's List, a membership organization that consists of unbiased reports and reviews given by area homeowners about service companies. Less than 5% of the contractors listed on Angie's List are qualified to receive the award, and this is the fourth year in a row that Republic West has been awarded for excellent service.
Linda Zimmerman, co-owner of Republic West stated, "We are thrilled to have received another award from Angie's List. As Arizona home remodelers, we are very proud of our staff. For the fourth year in a row they have received recognition for giving each and every Republic West client the service they deserve."
Angie's List is a referral service that is 100% driven by customer members who use a company or service locally. They then post a review of this company. No company can do anything to buy their way onto Angie's List or to affect the reviews they receive. For the past four years in the Window and Door, Refacing and Kitchen Remodeling categories, Republic West has consistently earned A's and has been honored with the Super Service Award.
Republic West, Inc. is a leading home improvement company specializing in complete home remodeling including kitchens, bathrooms, interior remodeling, room additions, energy efficient window and door replacement, cabinet re-facing and more. Headquartered in Scottsdale, Arizona and founded by Linda Zimmerman and Jim Weisman in 1995, Republic West is an operationally driven company that utilizes various disciplines, processes and procedures to help insure that it can deliver what is promised and is careful to only promise what it can control.
A revolutionary company, Republic West hires, trains, and staffs best-of-class operational management, senior and apprentice foreman, customer service personnel, division administrators, and design and sales staff, thereby ensuring that for every project, service does not become a byword. T.O.P Assurance (Thorough Operational Process) is an integrated 3-phase, track-able process designed to create synergy before, during and after your home improvement project.
Learn more about Republic West's home remodeling services in Arizona and the Phoenix Metro area by visiting their website.
# # #