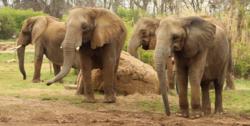 Experiencing an elephant close-up is an unforgettable experience. Elephants inspire us to protect fragile populations in Africa and Asia, and there's no better place to understand what is being done to help them than at an AZA-accredited zoo.
Silver Spring, MD (PRWEB) June 06, 2011
Association of Zoos and Aquariums (AZA) accredited zoos are leaders in elephant conservation education and science, and invite the public to celebrate and support elephants by visiting them this summer.
"Experiencing an elephant close-up is an unforgettable experience," said AZA President and CEO Jim Maddy. "Elephants inspire us to protect fragile populations in Africa and Asia, and there's no better place to connect with them and understand what is being done to help them than at an AZA-accredited zoo."
Status Of Elephants In The Wild
In the wild, elephants are in trouble. Elephant populations in Africa and Asia are under severe threat from human-elephant conflict (HEC), intense poaching, disease, and dramatic loss of habitat.
Elephas maximus – Over the last 75 years, the population of Asian elephants is estimated to have declined by 50 percent or more, maintaining their endangered status according to the International Union for the Conservation of Nature (ICUN). There are now an estimated 45,000 Asian elephants in 13 countries.
Loxodonta africana – The status of African elephants varies considerably across the species' range, but elephant distribution is becoming increasingly fragmented across the continent. Conservation and education efforts are crucial to maintain vulernable elephant populations and habitats. There are now an estimated 470,000 to 690,000 African elephants in 37 countries.
Elephants in Zoos are Thriving
AZA-accredited facilities launched the Species Survival Plan (SSP) Program in 1981 as a cooperative population management and conservation program for many at-risk species. The Elephant Taxon Advisory Group and SSPs provides a comprehensive strategy that spans veterinary research, public education, and field conservation projects. Its mission is to promote a strong future for African and Asian elephant populations.
Today, 298 elephants are managed within the SSP. About one half are Asian elephants and half are African elephants. They are cared for daily by professional zookeepers and veterinarians who dedicate their lives to these magnificent animals.
The AZA Standards for Elephant Management and Care set requirements for enclosure design, nutrition, reproduction, enrichment, and veterinary care to ensure high-quality zoo habitats for elephants. These mandatory standards are working and the North American elephant population is thriving. In addition, new state-of-the-art exhibits and improvement at many zoos—including zoos in San Diego, CA, Dallas, TX, Washington, DC, Birmingham, AL, Oklahoma City, OK and Cleveland, OH—demonstrate the ongoing commitment to excellence in elephant care.
With the help of elephants in AZA-accredited zoos, elephants around the world are benefiting from veterinary advancements. Because of scientific research in zoos, artificial insemination is now being practiced in Asia; contraceptive drugs and techniques are available as an alternative to culling; and tuberculosis tests and drugs are safely implemented worldwide. Similarly, the study of pheromones and breeding behavior was first identified and studied in zoos.
Your Visit Makes a Difference
Elephants in AZA-accredited zoos help educate visitors, make emotional connections, and change behaviors that positively impact elephant conservation. In a Harris Interactive poll, 95 percent of Americans said that seeing elephants in zoos helps people appreciate them more. That same poll found that 86 percent of respondents believe that visiting zoos encourages people to donate time and/or money to elephant conservation.
Zoos regularly provide conservation-oriented educational encounters to educate the public about the conservation status of elephants in the wild. Many also offer adult education classes to focus on the plight of elephants and the conservation efforts currently underway, with a portion of registration funds going directly to continue in-situ work to help elephant.
By visiting elephants in accredited zoos, people help make possible the field conservation, research, habitat restoration, reduction of human-elephant conflicts and community-based initiatives necessary to protect wild populations. AZA-accredited zoos provide the majority of funding for the International Elephant Foundation, supporting elephant conservation projects worldwide. Read about the projects funded for the year 2011.
Zoos Conservation Efforts
AZA-accredited zoos play an important role in furthering elephant conservation on a worldwide basis. In addition to supporting the elephant Species Survival Plan, 10 examples of these vital programs include:

ElephantAsia's Breeding Sanctuary and Hospital Program, Laos. With domesticated elephant numbers plummeting due to low reproduction rates, it is vital that cows are given the optimum opportunity to breed. ElefantAsia is opening the first breeding sanctuary, elephant hospital and laboratory on the grounds of the Lao Elephant Sanctuary. ElefantAsia's elephant hospital and laboratory will provide Laos with a much-needed center for elephant disease diagnosis, pathology and veterinary care.
Evaluation of Elephant Herpesvirus Shedding Among In Situ Asian Elephants. The objectives of this project are to determine whether wild Asian elephants show evidence of persistent EEHV1 infection and to perform detailed DNA sequence analysis to characterize the evolutionary history of the viruses being shed by wild elephants. Data generated from this project will be invaluable in understanding the prevalence and history of EEHV1 infection in Asian elephants.
Sumatra Elephant Conservation Response Units, Indonesia. This ongoing project provides once neglected captive elephants with high quality care and an active lifestyle, and provides the mahouts (elephant caretakers) with training and salary. The CRU elephant/mahout teams are employed to carry out forest patrols and wildlife monitoring, as well as provide educational workshops about elephants in neighboring communities. Creating this positive link between people and elephants, and ensuring that these elephants are seen as an important national resource and doing positive deeds, is helping local communities and decision-makers recognize the value of protecting the elephants of Sumatra.
Promoting Human-Elephant Coexistence in Karnataka, Southern India. A series of training and awareness programs in human-elephant conflict areas of Karnataka promote human-elephant coexistence, changing attitudes and behaviors towards problem elephants. A successful education module developed by Zoo Outreach Organization for both literate and illiterate audiences of age groups from school going children to adults is used in target areas to promote human-elephant coexistence.
"My Elephant Neighbor" Program. Exposing African children to their elephant neighbors in a positive manner is an effective way to involve them and their families in elephant conservation. Since the inception of the "My Elephant Neighbor" program, over 2,500 children and 300 teachers have participated in this outreach program. This program benefits elephant conservation as both children and their parents are sensitized to the issues of neighboring elephant populations.
The Waterways Project, Western Uganda. Poaching has devastated the region's elephant population, and this project aims to create better monitoring and enforcement in the area by stationing rangers in key locations to prevent further loss. This project has also constructed and equipped multiple boat patrol stations on the shores of Lake George in Queen Elizabeth National Park, which have a significant impact on the ability to protect wildlife and prevent elephant and hippopotamus poaching.
Joint Conservancy Anti-Poaching Team with the Northern Rangelands Trust (NRT), Kenya. Since the NRT's inception in 2004, poaching and other security-related incidents in northern Kenya have decreased largely because of the development of NRT and its 18 community conservancies. IEF and NRT, with support from the United States Fish and Wildlife Service and Lewa Wildlife Conservancy, have partnered to develop a Joint Conservancy Anti-Poaching Team that is greatly enhancing the wildlife protection and monitoring in the region. This team, first and foremost, is protecting elephants by deterring incidents of poaching from occurring and, when unfortunate incidents of poaching do arise within NRT communities, by providing a dedicated team of skilled anti-poaching officers immediately available to respond to and resolve these issues.
Investigating African elephant vocal communication which has led to the discovery of two new vocalizations that had never been reported for elephants in the wild or in zoological settings. The long-term goal of the elephant vocalization project is to develop and implement vocal communication technology in the wild to help with conservation and management efforts.
Conducting research on Endotheliotropic Elephant Herpesvirus (EEHV). The collaborative study aims to identify the causes of the disease in zoos and in the wild in an effort to ultimately prevent future EEHV fatalities, as well as find the status of EEHV in individual elephants, their potential for further transmission, and identify predisposing factors that make specific elephants more susceptible to the disease.
Supporting the development of The National Elephant Center (TNEC) in order to enhance the ability to grow and manage zoo elephant populations in North America and to create a sustainable future for elephants through research and conservation efforts by zoo elephant care experts.
Connecting with Elephants
There is no substitute for connecting with an elephant up close. You can have a unique experience with an elephant at 72 AZA-accredited zoos. Visit any of these AZA-accredited zoos today to learn more about elephants, how the zoo is contributing to conservation and what you can do to help. Find the AZA-accredited institution near http://www.aza.org/zooelephants
# # #