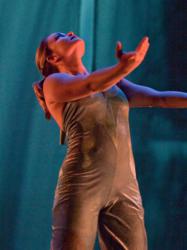 "Stacy's earned accolades throughout the state of Arizona. We're thrilled she's achieved national recognition." Jan Evans, President, Arizona Health and Physical Education
Phoenix, AZ (PRWEB) May 08, 2013
Anthem's pride just got a leg up. Arizona Health and Physical Education (AzAHPERD) congratulates Boulder Creek High School's Stacy Shane for her designation as National Dance Teacher of the Year, K-12. Shane received the award at the AAHPERD's annual convention in Charlotte, North Carolina on April 24th.
Shane has served the Deer Valley Unified School District as Boulder Creek High School's Dance teacher for nine years. She launched her career as an educator there and founded the school's dance program.
Jan Evans, President of Arizona Health and Physical Education, says, "Stacy's earned accolades throughout the state of Arizona for modeling the highest standards of professionalism, integrity, expertise, and dedication to her students. We're thrilled she's achieved national recognition, and we offer her hearty congratulations!"
Shane says she was, "overwhelmed, excited, grateful and humbled" to have been selected from a group of highly qualified peers. Her teaching philosophy empowers her students to master technique, but also, to learn about themselves and the world around them through the lens of dance.
To reach Stacy Shane, connect with her at: Stacy.Shane(at)dvusd(dot)org
Arizona Health and Physical Education (AzAHPERD) partners with schools, communities, legislators, and non-profits including Let's Move Active Schools and The American Heart Association to promote healthful lifestyles through quality education. Working with schools, communities and statewide programs, Arizona Health & Physical Education advances professionalism for educators, and extends support, training, certification, and assistance to members. For more, visit: http://www.azhpe.org.