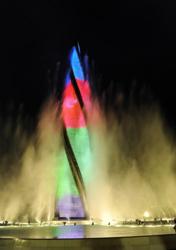 (PRWEB UK) 22 May 2012
Azerbaijan is set to be the host of a sparkling Eurovision contest set in the capital city of Baku and there has been a huge rise in the construction of buildings and sculptures. The Azerbaijan Flame Fountain Project which had its opening ceremony, attended by the president, on December 30th 2011 stands at thirty metres tall and lights up the night sky.
The sculpture was designed to resemble a huge flame bursting from the Earth's surface which was deliberately selected to represent both Azerbaijan's thriving oil and gas industries and its ancient nickname of 'The Land of Fire'.
Castle Metals UK were tasked with providing the raw materials and provided high specification 316L stainless and mild steel ranging between six and twenty millimetres in thickness. Once the stainless steel had been through the laser cutting process and cut into thin strips, it was used in the construction of the body of the Flame itself.
The sculpture weighs over sixty tonnes and houses one-thousand and six-hundred metres of glass cladding which contain 700 banks of LED lighting. This allows the Flame Fountain to light up the night sky for miles displaying a sparkling mix of water, light, and sound.
Azerbaijan's capital city of Baku isn't stopping there as recently the Flame Towers and Heydar Aliyev Centre have been completed with the construction of the Olympic Stadium under way. The Eurovision Song Contest is set to be held in the new Crystal Hall project, with the final held on 26th May 2012.
About Castle Metals UK
Castle Metals UK is a metal stockholder and profiler supplying over 52 countries throughout the world with a range of Stainless Steel, Duplex, Super Duplex and Nickel Alloys which are available direct from the warehouse in Blackburn, Lancashire, England.
With their strength and breadth of inventory, they boast more processing capacity under one roof than is currently available anywhere else in the UK, making Castle Metals UK a truly world class option for customers.
Website: castlemetalsuk.com