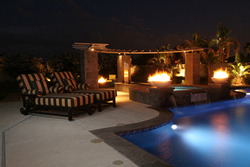 The bottom line is that creating usable outdoor living space is far less expensive than interior renovations
Chandler, AZ (PRWEB) May 28, 2008
Phoenix based Creative Environments Design & Landscape, the #1 Landscape Design and Build Company as voted by Phoenix residents, was profiled in the April 2008 issue of Phoenix Magazine. John Waters, Co-Owner and expert in landscape design, shared that through innovative Arizona landscaping, residents are making their outdoor living spaces as comfortable and functional as indoor living spaces at a fraction of the cost.
"The bottom line is that creating usable outdoor living space is far less expensive than interior renovations," said John Waters, Co-Owner of Creative Environments. "Costs for extensive interior fixes average $125 to $150 per square foot, while backyard or courtyard updates can cost as little as $3 to $5 per square foot."
These Arizona landscaping renovations leverage the mild Arizona climate and bring indoor amenities outside including fireplaces, plasma TV's and outdoor kitchens.
"The most popular outdoor spaces today are designed for entertaining and cooking," discovered Ashley Biggers, author of the article. "These next generation patios can also feature complete outdoor kitchens, with an elaborate barbeque, sink and refrigerator."
John Waters shared several innovative landscaping design ideas including:

Outdoor gas grills and fire pits can create a conversation area and hotspot during chilly desert nights. Free standing fire pits are great for creating this environment on a budget.
Install an outdoor patio floor using materials traditionally reserved for indoor spaces such as travertine or Cantera stone to create a richer classier look that is both durable and cool.
For clients on a limited budget, tinting existing concrete with acid wash can create a fresh look.
Misters, combined with freestanding arbors, gazebos can create enjoyable spaces that are up to 20 degrees cooler than temperatures in the sun
To learn more about Creative Environments custom commercial and residential landscape design services call 480-458-4100 or visit CreativeEnvironments.com for a custom quote.
About Creative Environments:
Creative Environments Design & Landscape, an industry leader since 1950, is the largest and most respected Arizona landscape design company. We continue to win local and national landscaping awards from industry peers, as well as receive the honor of #1 Landscape Design / Build Company, as voted by the residents of the Phoenix-metro area.
Although unique and functional design is our passion, outstanding customer service is our number one priority. Our talented Landscape Design Consultants will listen to you and then they will use their expertise to develop an architectural-quality landscape design plan that will create the outdoor living space of your dreams.
With our specialized construction crews and a fully-staffed customer care department, you can rest assured that your outdoor living environment will be installed correctly and on time.
Creative Environments can be found on the web at Creative Environments
###