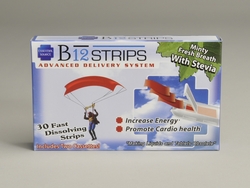 If the company ever goes public, I'll definitely be buying stock.
Phoenix, AZ (PRWEB) August 12, 2010
B12 Strips are a thin, dissolvable strip containing 1,000 mcg of highly bio-available Methylcobalamin B12, providing an incredible burst of sustained energy, while also freshening the consumer's breath.
Justin Zehrung, VP of Sales and Marketing with Essential Source states, "Our vitamin strips were designed to have a large surface area. As a result, the rate of absorption is very high, allowing less room for under utilization by the consumer. It's not just another tablet they can just chew up and swallow, if it takes too long to dissolve. With a strip, they have no choice but to let it fully dissolve, which only takes about twenty seconds, maximizing absorption. Many consumers who've taken other forms of sublingual B12 products, like the liquids or tablets, have stated that they have experienced better results with our strips for these reasons. "
Essential Source's vitamin strip delivery has in fact become so popular, that the line has been expanded to include a 2,000 mcg version of the B12 Strip, with B6, Folic Acid, and Biotin, and Sweet Dream Strips which is a natural sleep aid. The entire strip line is naturally flavored and sweetened, as well as vegetarian, and gluten-free. Detailed information on each product can be viewed on the company's website http://www.myessentialsource.com.
On September 19th 2010, The Vitamin Shoppe will be allowing its customers to try the original 1,000 mcg version of the B12 Strips for themselves, and has made thousands of samples available through any one of its 475 retail locations nationwide. To find a store near you, there is a store locater available on The Vitamin Shoppe's website http://www.vitaminshoppe.com . Susan Zicco, a Sales Executive with Essential Source explained that when her independently owned retail stores sample to their customers, their sales go through the roof. "Customers get excited when they try a sample of our B12 Strips, because they feel the burst of energy while they're in the store shopping, and they like that it leaves their breath fresh.
Everyone likes to freshen their breath through out the day, and now they get a health benefit from doing so. It's unique to every other B12 product out there and it's a lot more convenient", Susan stated. She went on to explain, "I recently read about a large U.S. study at Tufts University, which studied 3,000 people and found almost 40% to be B12 deficient. Supplementing with B12 is far more important than many people perceive."
Jeremy Slaughter, MAcc, E.A. with Masters, Slaughter & Co. ( http://www.MsCoAccounting.com ), the accounting firm contracted by Essential Source, Inc., stated, "This is one company to keep an eye on. It experienced a 543% increase in sales from 2008 to 2009, when many businesses were failing, and are poised to double in 2010. Their biggest weakness has been matching their production with the high level of retailer demand, which in my opinion, is a good problem to have. To accommodate, the company has increased production, as well as shipping and warehouse staff. If the company ever goes public, I'll definitely be buying stock."
Essential Source's products can be found at health food stores and pharmacies all across the country. Consumers can contact the company direct to find a store near them at (877)879-9966.
###