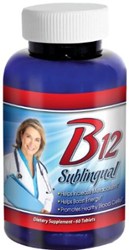 This is the simplest and easiest way to replenish your body with the B12 it needs.
Adel, IA (PRWEB) May 15, 2013
Men and woman who are looking for a clinically proven way to boost metabolism and energy now have an easy and natural way to do so by simply placing this cherry flavored sublingual B12 under their tongue.
Data from the Tufts University Framingham Offspring Study suggest that 40 percent of people between the ages of 26 and 83 are deficient. In fact many people attribute the symptoms of "normal aging", memory loss, decreased mobility and a decline in cognitive ability are actually related Vitamin B12 deficiency. Men and woman who are looking for a clinically proven way to fight these effects, as well as boost metabolism and energy, now have an easy and natural way to replenish their bodies with Vitamin B12 with this new product from M&M Beauty and Wellness.
This new addition to its ever-growing lineup of health and wellness products provides a key vitamin in the production of healthy red blood cells. B12 also supports the cardiovascular and circulatory functions of the body. Instead of a traditional pill form, this sublingual pill formula is placed under the tongue where it dissolves and is absorbed by the body in 30 seconds. When added to a balanced diet, M&M Beauty and Wellness Vitamin B12 Sublingual is an easy way to ensure your body doesn't miss out on this crucial piece of the dietary puzzle.
"It's as easy as putting a little cherry-flavored pill under your tongue," says Matthew, one of the M's from M&M Beauty and Wellness. B12 deficiency is common and can cause many problems like depression, heart disease and general fatigue. The beauty in the new formula lies with the sublingual formula. Simply placing one of the small pills under your tongue releases the vitamin and allows the body to absorb it quickly and begin to correct any deficiencies. Sublingual B12 is the easiest and most hassle free-way to ensure your body gets the vitamin it needs."
Vitamin B12 Sublingual by M&M Beauty and Wellness is now available for purchase only from Amazon.com at http://www.amazon.com/B12-Vitamin-Sublingual/dp/B005MH087Q. For a limited time, new customers can get 15 percent off of your purchase of M&M Beauty and Wellness B12 Sublingual by using the code B12001 at checkout, as well as take advantage of Amazon.com's "Super Saver" shipping option on any orders over $25.
Headquartered in Iowa, M&M Beauty and Wellness, LLC delivers solutions that support health and wellness. All of the company's products are manufactured exclusively in US-based, FDA certified, and FDA inspected facilities.