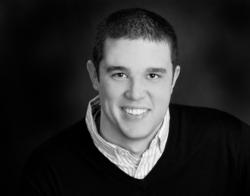 Omaha, NE (PRWEB) June 29, 2013
B² Interactive, an Omaha website design and Internet marketing firm, is pleased to announce a new addition to its team. Colin Ball has joined the B² Interactive team as an Interactive Marketing Specialist.
Colin Ball graduated from Creighton University in Omaha, majoring in Journalism with focus on Advertising and News. Colin's role at B² Interactive, among others, will be to work alongside Internet Marketing Director, Aaron Mackel, in the development and implementation of our local Internet marketing programs. His main duties will center around content creation for not only our website, but for the websites of many of our current clients. Along with content creation, Colin will also take part in B² Interactive's local marketing programs, which include but are not limited to: search engine optimization, content marketing, local listing management, paid search engine advertising, email marketing and social media marketing. In addition to these duties, emphasis by Colin will be put towards improving and building quality content for our clients in an effort to increase their web presence along with increasing traffic to their sites.
With two years of experience in leadership as an Events Coordinator with Creighton University's Events Management department, Colin will have an immediate impact on projects that he will be a part of. Colin is joining the team at a time of growth and has the chance to contribute right away.
Mr. Ball will begin working full-time with the company in their southwest Omaha offices on July 1, 2013, however, Mr. Ball's presence can already be seen on the company's corporate website with several articles appearing on the site in the last couple of weeks. This includes a "Meet Colin Ball" piece published by the company on June 28, 2013 that gives readers even more insight into who Mr. Ball is and what he brings to B² Interactive. Colin will primarily be working with local Omaha businesses to optimize their existing online presence, build and implement new online marketing plans and will also help develop the ongoing internet marketing programs offered by B² Interactive.
About B² Interactive
B² Interactive is a website design, development and marketing firm in Omaha, NE. The co-founders of B² Interactive each have more than 15 years of experience in web design and Internet marketing. Together they have worked in the design, operation and online promotion of hundreds of websites – from small to large, on a local and national level. B² Interactive takes their experience and focuses on taking their clients web experience and online marketing efforts to the next level. Services offered by B² Interactive include Website Design and Development, Search Engine Optimization (SEO) and Search Engine Marketing (SEM), Social Media Marketing and Campaign Management, Content Marketing and Management, Paid Search Advertising Management, Website, SEO and Social Media Analytics and Optimization.