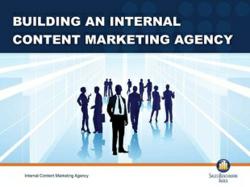 Marketing leaders went out and bought marketing automation software and significantly underestimated the content needs of such systems.
Las Vegas, NV (PRWEB) October 26, 2012
Sales Benchmark Index today announced a new service offering that helps Chief Marketing Officers produce demand generation content consistently by building an Internal Content Marketing Agency. The service offering has successfully progressed beyond early client testing and is ready for general release. During development SBI tested strategic alternatives for department creation and conducted two dozen time and motion studies to determine the most efficient way to produce high quality B2B demand generation content. The results proved that an Internal Content Marketing Agency produces better results than outsourcing content production.
Some of the deliverables of an Internal Content Marketing Agency are:

Persona specific custom content mapped to stages of the buyer's journey
Editorial calendars and production schedules to meet the goals of the marketing department
Clear roles and responsibilities of each person in the department
Goals and compensation plans for each agency team member
Promotion plans to digitally syndicate content to maximize reach
Lead nurturing paths that place the right content in front of the right buyer at the right time
"Marketing leaders went out and bought marketing automation software and significantly underestimated the content needs of such systems", noted Greg Alexander, CEO of Sales Benchmark Index. "With a failed implementation looming, they turned to their advertising agencies, PR firms, and consultants for help in creating compelling content. They quickly realized this took too long, cost too much, and the quality was not very good. It is very difficult for an external 3rd party to produce content that resonates with a buyer. These well intentioned service providers simply just do not know the client's customers, markets, products, and competitors as well as the client. The alternative for the marketing leader is to build this capability internally. By standing up a new department, called an Internal Content Marketing Agency, marketing leaders can produce a high volume of top shelf content fast and cost effectively."
Sales Benchmark Index is presenting their new offering in a global tour. SBI demand generation experts are traveling to company headquarters and reviewing the blue print for the Internal Content Marketing Agency directly with marketing leaders. The sessions are at no cost to the participating companies. Chief Marketing Officers and Vice Presidents of Marketing learn how to get the most out of their marketing automation systems by feeding them with demand generation content constantly. For those who are interested in scheduling a visit from SBI researchers contact Christina Dieckmeyer at christina.dieckmeyer (at) salesbenchmarkindex (dot) com or call 888-556-7338 ext. 701.
About Sales Benchmark Index:
Sales Benchmark Index provides sales and marketing consulting services to leading organizations across the private and public sectors. These companies are seeking to increase their rate of revenue growth. Unlike traditional approaches, such as software implementations or skills training, we offer superior value because we rely on the benchmarking method to deliver results. This method of consulting allows for results to be delivered quickly with little organizational disruption. This is accomplished through the use of best-in-class diagnostic tools and solutions that are supported with verifiable proof. Each project is executed by the most experienced team of advisors in the industry.
For more information on this research go to: http://www.salesbenchmarkindex.com.
Contact Christina Dieckmeyer for more information:
Christina.dieckmeyer (at) salesbenchmarkindex (dot) com or 317-750-7443