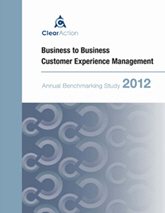 Businesses are made up of people, and people have emotions. Close relationships with business customers matter a lot.
Sunnyvale, California (PRWEB) December 19, 2012
Stories of business customer experience management practices and successes are featured in the 3rd Annual ClearAction Business-to-Business Customer Experience Management (B2B CEM) Best Practices Study. Examples span across voice-of-the-customer, employee engagement in CEM, customer-focused culture, customer experience profitability, and more. Trends are also shown across 2010, 2011 and 2012.
Business CEM stories are rare relative to consumer-focused examples, despite the fact that business customer experience can be much more challenging, with high involvement of numerous influencers of the purchase decision, high stakes purchases with lengthy sales cycles, reciprocal buyer/supplier relationships, and complex touchpoints across functional areas, managerial levels, and products, among other factors unique to B2B environments.
An enterprise customer experience manager at telecom provider Orange, Emilie Smith, said: "In B2B there's an even bigger argument for CEM linkage to revenue and profitability because often the products and services for businesses are a lot more sophisticated and cost a lot more for the company to provide them. For one account, millions may be at stake." The head of customer experience at freight provider Maersk Line, Rene Bomholt, said: "Businesses are made up of people, and people have emotions. Close relationships with business customers matter a lot."
As the sole global B2B CEM survey, this research provides inspiration to executives who want to maximize value, differentiation, and profit. Findings and recommendations are detailed in the report for these topics:
1) Top Motivations for B2B CEM

Role of CEM in Corporate Strategy and Day-to-Day Business
Investment Levels and Deployment Scope
Coordination Among Managers of B2B CEM Methods
Greatest Obstacles to B2B CEM Success
2) Journey to World-Class in How We ...

Listen to Customers
View Customers
Center Our Employees on Customers
Center Our Business on Customers
The 2011 second annual study explored the linkages of customer experience management to corporate goals, strategy, culture, processes, and business results. Seven success factors were identified, including coordination among customer experience managers, presentation of survey results to all employees, action on survey results by owners of loyalty key drivers, and cross-organizational collaboration. The 2010 baseline study examined the functional owners of various customer experience programs, and the scope of organizational deployment.
Customer experience management (CEM) is an emerging discipline that is a composite of customer service, voice of the customer, co-innovation, experiential marketing, customer relationship management, customer references, internal branding, and similar efforts.
About ClearAction
ClearAction is a customer experience management consulting firm that helps organizations build enterprise-wide customer-focus and customer experience innovation. ClearAction's skills and 20 years of pragmatic experience in customer satisfaction, quality, marketing, and organizational development catalyze value from customer feedback by applying it to daily decisions and processes company-wide. Lynn Hunsaker, head of ClearAction is author of three ebooks available on Amazon Kindle: Innovating Superior Customer Experience, Metrics You Can Manage for Success, and Customer Experience Improvement Momentum.