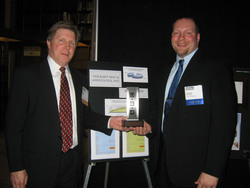 The Fluke thermal imaging program was a great collaborative success!
Minneapolis, MN (PRWEB) May 15, 2008
Volkart May & Associates, Inc. (VMA), a Minneapolis-based B2B lead generation and direct marketing firm received a bronze award in the B2B Integrated/Multi-Media Campaign category from the Midwest Direct Marketing Association (MDMA) for excellence in their integrated direct marketing campaign for Fluke Corporation and its thermal imaging business unit.
The MDMA ARC (Art-Response-Copy) Awards recognize outstanding creative work that produces exceptional results. VMA and Fluke teamed up to produce an award-winning integrated multi-media direct marketing campaign combining direct mail, email and outbound B2B lead generation calls that resulted in an ROI of 2,968%.
Choosing an integrated multi-media campaign over a single channel campaign supported Fluke business goals to increase awareness of its thermal imaging product line, accelerate sales cycles and acquire new business prior to the close of Q4. It also supported their desire to drive sales through Q1 of the following fiscal year and build a robust pipeline for their sales force.
This is VMA's ninth ARC Award. Placing in the B2B Integrated/Multi-Media Campaign category exemplifies VMA's value as a strategic direct marketing partner and corporate sales and marketing resource for enhanced campaign ROI.
"The Fluke thermal imaging program was a great collaborative success!" said Jon Pitton, Vice President of Sales and Marketing for VMA. "This is a prime example of how adding live customer and prospect touches to a marketing campaign can be a significant ROI driver." Hal Marten, VMA's Key Client Manager responsible for the program's development and execution agrees, "If you're looking to add a highly effective component to your multi-media campaign, done correctly, a live touch brings very significant results." The percentage of responses that turned into leads increased significantly from around 1% for Fluke direct mail and email efforts alone to over 25% as a result of integrating a live touch.
"We were very pleased to see the substantial increase in the percentage of leads generated for both short-term sales and our pipeline as a result of adding VMA's calling campaign to our marketing mix," said Jordan Schlichting, Manager of Inside Sales and Product Marketing for the Fluke Thermal Imaging Business Unit. "VMA's services integrate seamlessly with our other marketing and sales efforts and we continue to realize enhanced ROI as a result of our ongoing strategic marketing partnership."
About Volkart May & Associates, Inc.
Volkart May & Associates, Inc. (VMA) is a Minneapolis based marketing firm with over 25 years of experience delivering sales and marketing ROI through highly effective customer acquisition and retention programs. Organizations of all sizes benefit from VMA's deep industry knowledge and strategically driven portfolio of business development and marketing services that include inquiry qualification, B2B lead generation, appointment setting, database management, event support, market research and on-site business development staffing. Through the initiation of live, one-on-one phone interactions, VMA's Business Development Specialists build rapport with customers and prospects in all industry verticals including healthcare, medical device and technology. For more information on VMA, please visit http://www.volkartmay.com.
About Fluke Corporation
Fluke Corporation is the world leader in compact, professional electronic test tools. Fluke customers are technicians, engineers, electricians and metrologists who install, troubleshoot, and manage industrial electrical and electronic equipment and calibration processes for quality control. For additional information on Fluke Corporation, please visit http://www.fluke.com.
# # #