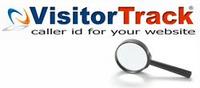 VisitorTrack is like Caller ID for Your Website®
Denver Technology Center, CO (PRWEB) October 5, 2010
Today netFactor Corporation has unveiled new capabilities within VisitorTrack - the B2B lead generation software that's "Like Caller ID for a Website®." The Multi-Select Triggers feature set now enable instantaneous visibility into the most desirable businesses visiting a website. Highly-tailored alerts delivered in real-time can be shaped according to the behavioral, demographic and geographic makeup of the anonymous business visitor to a website.
VisitorTrack is a SaaS product used by companies around the globe to track website visitors. No other application in the world provides as vivid a view of the anonymous business visiting a website. With VisitorTrack these visitors can be identified in real-time yielding a rich profile of the organization. Each business profile contains comprehensive information - including the target executives and such contact details as email address and telephone number. As a result companies can identify active business prospects and integrate powerful intelligence into their online marketing and B2B lead generation approaches.
"More than ever, engaging and converting website visitors into leads is a primary objective for B2B marketers" said Christopher Jeffers, CEO of netFactor. "These new Triggers capabilities within VisitorTrack let users pinpoint the very best business prospects from their anonymous website traffic. Whether it is by industry, company size, landing page or their on-site behaviors, a combination of straightforward selects can filter through the chaff to uncover the optimal companies and contacts to advance into the sales cycle."
"At Cypress Software Systems, our sales executives utilize the new Multi-Triggers capability within VisitorTrack to obtain instant email notification for pre-determined specific traffic visits on our website - as well as visits to ongoing marketing campaign landing pages" stated Steven E. Croft, Senior Vice President of Sales & Marketing. "By allowing them to filter the Triggers to their exact geographic territory, they are now able to receive only the lead activity that they are accountable for. This accelerates the prospective client follow-up as well as enhancing the overall sales process" he added.
Christopher Jeffers of netFactor responded "For the first time in B2B demand generation website visitors can be identified in real-time according to exacting preferences. The new Multi-Select Triggers features within VisitorTrack advance our category leadership and commitment to driving a greater return from the Internet marketing online investment for B2B clients."
About netFactor
netFactor Corporation provides a suite of products to drive new levels of sales performance from Internet marketing for the Business-to-Business market. The company's core VisitorTrack® technology platform, integrates lead generation, marketing intelligence and web analytics into a powerful application for website lead generation - it's like "Caller ID for Your Website®." netFactor is privileged to serve customers in nearly every industry to include software, telecom, healthcare, technology, financial, professional services, manufacturing, and transportation. For more information on netFactor Corporation's performance-driven products and services for Internet marketing, please visit http://www.netFactor.com.
For More Information
Contact Bryan Poss
netFactor Corporation
email: bryan(dot)p(at)netfactor(dot)com
phone: 720-489-5534
fax: 720-489-5632
# # #