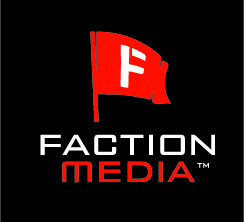 Faction is a leader in the digital marketing community and we saw the chance to use that leadership to make a real difference in the world.
Denver, Colorado (Vocus/PRWEB) February 18, 2011
Faction Media, a digitally led communications agency, proves its commitment to philanthropy by continuing its partnership with the Colorado-based dZi Foundation. Faction supports the foundation with pro bono marketing, social media and communications services.
Since launching in 2005, Faction Media's agency leaders have emphasized and promoted the importance of social responsibility by being heavily involved with community organizations, charities and nonprofit foundations. "As business owners it's our responsibility to provide direct support to organizations like the dZi Foundation. We also encourage our staff and business partners to be involved with philanthropic programs," said Steve Riegel, Co-Founder and Partner of Faction Media.
The dZi Foundation, a nongovernmental organization (NGO), partners with communities in the most remote regions of Nepal to build locally driven, sustainable programs that improve quality of life, education and health, while reducing poverty.
Aaron Batte, a Partner at Faction Media, is an adventure traveler and avid climber. Aaron was introduced to the dZi Foundation when he met Jim Nowak at an ice climbing competition in Ouray, Colorado. Nowak is Co-Founder of dZi Foundation and currently serves as Executive Director. Batte and Nowak formed a friendship that a few years later turned into a working partnership.
"Jim's passion for his work is incredibly inspiring", says Batte. "Charity begins at home, but should not end there. Faction is a leader in the digital marketing community and we saw the chance to use that leadership to make a real difference in the world—we took it and we couldn't be more proud of our partnership with dZi."
Since 2009, Faction has provided the dZi Foundation with pro bono consulting and marketing services, including securing a Google Grant for the Foundation. The agency was also involved with designing and orchestrating an online and social media campaign for the Endless Ascent—a 24-hour fundraising initiative involving world-renown athlete and climber Will Gadd.
Faction Media plans to expand its pro bono assistance to the dZi Foundation in 2011 with additional efforts to grow national awareness of the organization and communities they support. "We are passionate about the dZi Foundation and the amazing work they are doing," says Batte. "Our goal is to show the world through online experiences, digital media, mobile, and the social web what we already know—the dZi Foundation is making the world a better place, one life and one community at a time."
About Faction Media
Faction Media is a full-service digitally led communications agency creating best-in-class engagement strategies, customer insights and marketing optimization services for clients in an increasingly complex and fragmented marketplace. The agency provides communication strategies, behavioral-based account planning and audience segmentation services resulting in analytical insights that empower marketing programs for Fortune 1000 companies including some of the largest and most innovative businesses in the world.
Faction Media's Unified Marketing™ approach combines new and evolving interactive disciplines enhancing traditional marketing channels to identify, build and execute the most effective and successful brand and demand generation campaigns. A commitment to performance accountability, technology, and creative innovation has defined Faction's place as a leader in business-to-business communications and marketing.
About dZi Foundation
dZi Foundation partners with underserved communities in remote regions of the Himalaya to build sustainable, locally-driven programs that improve quality of life through advancing education and health, while reducing poverty. Longtime mountaineers Jim Nowak and Kim Reynolds founded it in 1998. Under the leadership of Jim Nowak as Executive Director, the dZi Foundation has expanded its efforts to serve 21,000 in the most remote villages of Eastern Nepal.
###