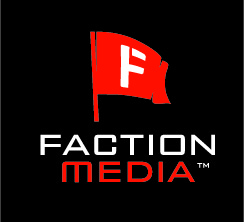 Marketers no longer need to turn to the large, incumbent agencies for great work.
Denver, Colorado (Vocus/PRWEB) February 22, 2011
Faction Media, a digitally led, full-service communications agency continues to experience unprecedented growth by driving measurable marketing results and building competitive advantages for its clients.
In 2006, agency founders, Aaron Batte, Dave Greves and Steve Riegel outlined a plan to develop a top ten revenue-generating agency in the Rocky Mountain region. Five years after that prediction, the agency has grown from five employees and it's original offices of less than 2,500 square feet to over 40 employees. Faction's new office space is spanning more than 13,000 square feet in Denver's Historic LoDo District. Combine that with the 2009 opening of a field office in Phoenix and the addition of veteran marketer Kurt Greves as agency partner and it's plain to see that this is an agency on the move.
Faction has witnessed, first hand, the maturation of digital marketing and has continuously provided best-in-class strategies for its clients throughout the B2B marketing community. Industry associations, publications and peers have all recognized the agency for its outstanding creative talent by honoring them with international, national and local performance-based awards. "Not only do we bring strategy, planning and execution to our client engagements but we also bring outstanding creative talent on par with any agency in the country," says Faction's Director of Creative Services, Dan Schrad.
Besides winning awards in various industry categories, Faction Media is "constantly staying in tune with emerging technology. We understand how it's going to play into our account planning, and we make recommendations accordingly for our clients. We help them visualize and then realize the future," says agency Co-Founder and Partner, Steve Riegel.
Faction offers a full range of traditional and digital marketing services, but it's the agency's focus on behavioral account planning that sets them apart from their competition and is the driving force behind its past, present and future successes. Dave Greves, CEO and Partner notes, "When you understand the characteristics of each market segment: demo-, socio-, psycho-, and techno- graphics you've got the insights required to build relevant marketing programs that drive results generating top line revenue".
Today, Faction Media has grown to annual billings approaching 10 million and maintains a revenue trajectory of 50 million by 2015. Successful partnerships with brands like Avaya, Johns Manville, Xcel Energy, Comcast, Boehringer Ingelheim, USA Swimming and others have continued to fuel growth. "Marketers no longer need to turn to the large, incumbent agencies for great work. We are creating a new kind of agency model for our clients, smaller and more nimble than traditional agencies, but with the same strategic and creative power," says Aaron Batte, Co-Founder and Partner of Faction Media. "We are and will continue to be a next generation full-service agency predicated on sound strategies, creative excellence and accountability".
About Faction Media
Faction Media is a full-service digitally led communications agency creating best-in-class engagement strategies, customer insights and marketing optimization services for clients in an increasingly complex and fragmented marketplace. The agency provides communication strategies, behavioral-based account planning and audience segmentation services resulting in analytical insights that empower marketing programs for Fortune 1000 companies including some of the largest and most innovative businesses in the world.
Faction Media's Unified Marketing™ approach combines new and evolving interactive disciplines enhancing traditional marketing channels to identify, build and execute the most effective and successful brand and demand generation campaigns. A commitment to performance accountability, technology, and creative innovation has defined Faction's place as a leader in business-to-business communications and marketing.
###