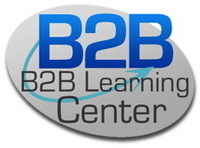 Companies building B2B processing networks face the continued challenge of providing e-business and standards training for new graduates, solution developers and trading partners
Dallas, Texas (PRWEB) March 25, 2009
The B2B Learning Center announced today a strategic education partnership with RosettaNet addressing the critical education gap around e-business standards and business-to-business (B2B) process integration.
"Companies building B2B processing networks face the continued challenge of providing e-business and standards training for new graduates, solution developers and trading partners," explained Karen Cox, Founder and CEO of KJC Solutions, Inc. "This company-by-company approach to training our next generation of e-business experts is both costly and ineffective. With every company developing their own training, industries will never achieve e-business interoperability."
"In response to this global education challenge," reported Ms. Cox, "we created the B2B Learning Center to deliver multi-standard, solution-neutral B2B training through a free educational website."
"Today's economy is driving companies to optimize supply-chain processes. Leveraging XML standards and the internet are essential strategies for building long-term competitiveness, yet few people have training in the use and value of B2B standards," shared Clem Erhardt, President of RosettaNet. "The RosettaNet consortium have emphasized the importance of standards training to help lower B2B integration costs."
"The B2B Learning Center provides a cost effective way for businesses seeking education about standards-based B2B processing," said Erhardt. "Our RosettaNet members will greatly benefit from this training to reduce the costs of their implementation projects. Our partnership with the B2B Learning Center allows us to collaborate directly with Karen Cox, an early leader in RosettaNet and a globally recognized expert in e-business standards."
"We are excited to welcome RosettaNet as our first not-for-profit sponsor of the B2B Learning Center," said Cox. "The partnership with RosettaNet is a significant milestone for the B2B Learning Center, demonstrating a shared commitment for our business vision of delivering free e-business standards education funded through non-profit and corporate sponsorships."
As part of the education partner, a RosettaNet sponsor profile is now available in the B2B Learning Center describing the RosettaNet organization, its standards and community. Additionally, a RosettaNet Primer will soon be published helping people new to RosettaNet-based B2B integrations.
About KJC Solutions, Inc.:
KJC Solutions, Inc. (KJCsolutions) is an education and consulting firm formed by Karen Jean Cox. KJCsolutions is actively promoting standards-based B2B processing to help companies electronically automated supply-chain processes. Information about KJC Solutions, Inc. can be found at http://www.kjcsolutions.com.
The B2B Learning Center is an educational website created and managed by KJCsolutions offering free multi-standards, solution-neutral e-business education and quick references.
About RosettaNet:
RosettaNet, a subsidiary of GS1 US™, is a not-for-profit consortium dedicated to the collaborative development and rapid deployment of open, business process standards that align processes within global trading networks. RosettaNet standards and services provide a common language for business transactions and the foundation for integrating critical processes among partners within the global supply chain. Companies that use RosettaNet's proven standards benefit from added cost-savings throughout supply chain processes, improved e-business communications with trading partners, enhanced product life cycle management capabilities, and added customer satisfaction. For more information about RosettaNet, visit http://www.rosettanet.org.
PRESS CONTACT
Karen J. Cox
KJC Solutions, Inc.
+1.972.416.2770
###