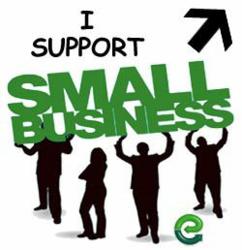 Tampa, FL (PRWEB) October 04, 2012
When most people think of startups, they will often envision a small operation that is receiving outside funding from a financial institution or venture capital firm. While this is true to a certain extent, the reality is that the most successful businesses were started by entrepreneurs from their home. This means that their sources of funding and support are limited.
For many companies, this is challenging as these issues will reduce their exposure and size. To address these problems, I Support Small Biz is serving as an advocate for these organizations. Their focus is on providing a central location where the opinions of small business owners can be heard. In the future, this is ensuring that critical issues which are most important are not overlooked.
The Impact of I Support Small Biz
In the past few years, most people have forgotten the impact of small businesses owners on the economy. This is because the news and governmental policies are focused on larger firms that have more money to influence the political process. The results are that the critical needs of these organizations are often ignored. This is troubling, as some of the most successful companies have started out as small businesses to include:
Facebook: In 2004, the company was established as a way for everyone to stay more connected with each other. At the time, the idea was so new that the founder (Mark Zuckerberg) started it out of his college dorm room. In a few short years, this company would redefine how everyone is able to stay connected.
Apple: In the 1970s, Steve Jobs started Apple out of his garage. His idea was to develop personal computers that everyone could use to perform all their daily functions. This helped to establish the computer / Internet revolution and turned the firm into a major technology power house.
McDonalds: McDonalds was started in the 1950s as single hamburger stand. The idea was to offer customers with food they could eat on the go that was inexpensive. This transformed the way that Americans ate and lived their lives. As the restaurant became one of the most recognizable brands in the world.
These different companies were started based upon a single idea. What made them so successful is the owners began with very little financial support and a dream. I Support Small Biz understands these views and is constantly working to ensure that they are heard.
Clearly, I Support Small Biz is focused on supporting the needs of startups. The way that this is accomplished is through the Facebook page. This is a central location where the most innovative firms can have their ideas heard. In the future, this helps entrepreneurs who are like Facebook, Apple and McDonalds to be heard. These founders had a dream to address the needs of customers and make a difference in the way everyone is living their lives. When this happened, more jobs were created and society was transformed for the better by these organizations. This is what I Support Small Biz is dedicated to.