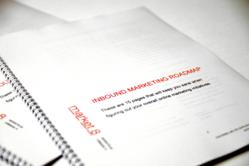 The Inbound Marketing Roadmap is a very practical list of all the action items that need to occur to run a successful inbound marketing program
Atlanta, GA (PRWEB) September 27, 2012
The B2B marketing world has filled with buzz about the concept of inbound marketing. However, most marketers struggle when charged with implementing an inbound marketing program.
Inbound marketing is based on the premise that instead of pushing a sale, marketers must provide solutions-based information that encourages customers to engage with a company's content.
"Purchasing behaviors are moving more and more toward a permission-marketing protocol in which users grant you permission to communicate with them," Market 8 states in the Roadmap.
The Inbound Marketing Roadmap was developed to show marketers not only how to gain that permission, but also the method to then move an inbound customer along the sales funnel to an eventual purchase.
"The Inbound Marketing Roadmap is a very practical list of all the action items that need to occur to run a successful inbound marketing program" said Eduardo Esparza, President of Market 8, "it's created for marketers that seek an actionable B2B marketing plan template."
The Roadmap is split into organized blocks of activities, each building upon the previous step in a logical format. The Roadmap takes you through the four fundamental phases of developing an inbound marketing strategy:
Phase 1 – Messaging
Phase 2 – Construction
Phase 3 – Creating and promoting content
Phase 4 – Analysis and improvement
The Roadmap details the specific activities that take place within each phase, providing a straight-forward project management template. Comprehensive in its scope, the Roadmap integrates all the components of marketing into a cohesive action plan.
To download the full Inbound Marketing Roadmap, visit: http://www.market8.net/inbound-marketing-roadmap/
Market 8 is a web design and inbound marketing agency based in Atlanta, GA. Their approach to website design integrates inbound marketing into every phase of a company's website, providing a site that not only builds branding, but achieves marketing results.
To learn more about Market 8's visit their new website at http://www.market8.net.