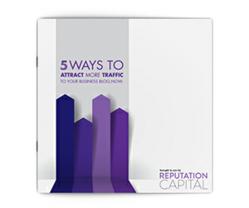 "We've created a webinar to answer the online marketing questions that we hear the most: How do I get more traffic? What are some easy ways to improve SEO? How do I work with other industry bloggers?" - Mary Ellen Slayter, Reputation Capital
Baton Rouge, LA (PRWEB) April 30, 2013
Reputation Capital Media Services, a marketing agency specializing in producing high-quality digital content for B2B companies, announces a webinar on May 8, 2013. The webinar, "How to Attract More Traffic to Your Business Blog, Now," will focus on simple ways that B2B marketers and small business owners can change their online behavior to increase website traffic and grow industry relationships. A companion B2B marketing white paper is also available.
"We work with B2B companies who need an online marketing boost. We have consistently seen that our own most popular blog posts are about increasing website traffic," says Mary Ellen Slayter, managing director at Reputation Capital. "So, we've created a webinar to answer the online marketing questions that we hear the most: How do I get more traffic? What are some easy ways to improve SEO? How do I work with other industry bloggers?"
The one-hour webinar will feature a panel of online marketing experts: Ian Greenleigh, senior manager of content and social strategy, Bazaarvoice; Lizzie Maldonado, senior manager of social media, Starr Conspiracy; and Jesse Stanchak, social media editor, SmartBrief. The panel, moderated by Mary Ellen Slayter, will give attendees tips on mastering SEO basics, leveraging email marketing, developing relationships with bloggers, understanding guest posting, using social media, working with journalists, and making content easy to share.
The webinar is Wednesday, May 8 at 2pm EDT. B2B marketers and small business owners may sign up at https://attendee.gotowebinar.com/register/818878127079831296. Webinar attendees are encouraged to share ideas and questions on Twitter with the hashtag #moretraffic.
ABOUT REPUTATION CAPITAL MEDIA SERVICES
Reputation Capital Media Services is a Baton Rouge marketing agency that helps B2B companies and their marketing agencies produce high-quality digital content, including blog posts, e-mail newsletters, white papers and multimedia. Reputation Capital editors and writers are experts in their fields, which include HR technology, employee benefits, and financial services and accounting. Reputation Capital offers free 30-minute consultations on how great content can help businesses attract and retain customers.