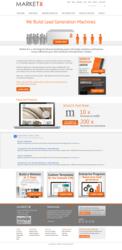 Sometimes marketing agencies aren't good at following their own advice; Market 8's new website is a premiere B2B website design example
Atlanta, GA (PRWEB) September 27, 2012
Market 8 has unveiled three new web design packages, and decided a web site redesign would not only showcase the new products, but also serve as an example of inbound marketing best practices.
"Sometimes marketing agencies aren't good at following their own advice," said Eduardo Esparza of Market 8, based in Atlanta. "But we've been having too much success with our clients not to use our B2B website design knowledge for ourselves. Our new website is designed to showcase what we do in a down to earth, clear way."
Market 8's three different website design offerings are created to appeal to companies of varying sizes, and all integrate the principles of inbound marketing:
Simplex: Designed for small business and newcomers new to the world of inbound marketing and the HubSpot CMS, Simplex uses pre-designed themes to get your website up and running in as little as two days. Companies are able to buy their Simplex theme online through an ecommerce site designed by Market 8.
Custom Templates: To maintain certain branding attributes, Custom Templates include a customized home page banner and call-to-action graphics. The template approach allows the site to be up and running in a matter of a few weeks.
Enterprise Programs: The Enterprise Programs integrate a comprehensive inbound marketing approach with a customized, overall redesign. It employs such inbound marketing components as competitor benchmarking, customer persona development, conversion and search engine optimization, content development and lead nurturing.
Adhering to inbound marketing strategy, Market 8 will developed informational content specific to the three website packages. "We'll be showing how the packages can help a business improve their inbound marketing," said Esparza.
Market 8 is a certified partner of HubSpot, the premier software solution for inbound marketers. "Inbound Marketing and HubSpot have helped us generate results for other clients," Esparza noted, "so it was only natural that our own site redesign would be based on the same principles."
Visit Market 8's new website by visiting http://www.market8.net.