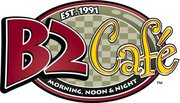 Orlando, FL (PRWEB) March 02, 2012
B2 Café and the restaurant's famed mascot, Obart, will be showing their support for the UCF Men's Baseball team by sponsoring the game between the University of Central Florida Knights and the Florida State University Seminoles on March 6, 2012.
UCF fans will have the chance to win a "Best Lunch for the Bunch" during the game's "Homerun Challenge." If a UCF player hits a homerun during the 2nd inning, one lucky fan will win lunch for 10 at either of the Central Florida B2 Café locations. Fans can register for the "Best Lunch for the Bunch" drawing at the UCF marketing kiosk located between gates 2 and 5.
B2 Café will also be giving away branded koozies and Obart baseball cards to fans seated in the "Lucky Row," which will be randomly selected before the game. Each Obart baseball card entitles fans to a free lunch for 2 at either of the Central Florida B2 Café restaurants.
B2 Café is a proud supporter of the UCF Knights and their athletic teams. B2 Café also supports local and national charities and is involved in youth sports and a variety of other civic events and organizations. B2 Cafes serve fresh, made-to-order meals that are prepared with the highest quality ingredients and can be considered an alternative to fast food.
ABOUT B2 CAFÉ: An easy place to dine in or out, B2 Café offers a variety of choices of quality foods at reasonable prices. Founded in 1991 in Tallahassee, foods on their diverse menu are always fresh, made to order and served with a smile. An eclectic collection of custom favorites, B2 Cafés serve sandwiches, salads, wraps, soups and breakfast all day long. B2 Café is happy to cater your next event. It's "the place 2B."