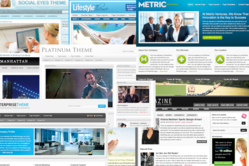 It didn't take me long to realize that paying once for lifetime access to past and future themes would be an excellent investment. I was right.
(PRWEB) November 30, 2012
B2Web's Pro Plus All-Theme review begins with a Jon Dykstra's background using StudioPress themes and how he decided to make the investment to become a Pro Plus member. It then discusses the benefits of the membership and how StudioPress' All-Theme package differs from other major premium theme developers.
The review ends with an example of how the membership paid for itself for Mr. Dykstra within 1 week followed by several frequently asked questions prospective purchasers have about this all-theme option.
It's also important to point out that an all-theme package is not for everybody. It's a waste of money for anyone who doesn't intend to launch multiple websites, either for their own purposes or for clients. But for anyone who may get into developing sites on an ongoing basis, the StudioPress Pro Plus package can be an excellent investment.
Learn more about the Studiopress Pro Plus All-Theme package at http://www.btwoweb.com/studiopress-pro-plus-all-theme-package-review/.
About
B2Web is published by Jon Dykstra and it's a website dedicated to teaching people about using WordPress including theme recommendations, reviews, a free video course on using WordPress and a free WordPress installation and theme set up service.
Visit B2Web at http://www.btwoweb.com.