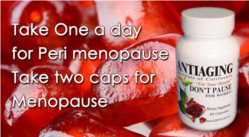 Grow Young Responsibly
Beverly Hills, CA (PRWEB) July 12, 2012
More than 40 million women in the United States endure the daily struggle with menopause. To help women feel better and live happier, more fulfilled lives, ANTIAGING Institute of California has developed Don't Pause, a natural menopause treatment. LAD Solutions acts as the company's digital marketing agency, assisting in promoting the product through various online marketing techniques.
The symptoms of menopause are at the very least disruptive and at the very worst, completely debilitating. Some of the symptoms that can be caused by menopause include:

Shorter/longer or lighter/heavier periods
Hot flashes
Night sweats
Additional fatigue
Urinary problems
Extreme mood swings
Reduced sex drive
Osteoporosis
Forgetfulness
Difficulty focusing
Minor aches and pains
Combined, these symptoms can cause dramatic change in the daily lifestyle of a woman. She may not be able to participate in activities with family and friends like normal.
Don't Pause helps women by providing them with DHEA (dehydroepiandrosterone), a natural pre-hormone both women and men lose as they age from 25 to 75. DHEA can turn to practically any hormone in the body, including the primary female hormone, estrogen.
As hormone levels return to a more balanced state, menopause symptoms slowly fade away. Don't Pause, in particular, helps relieve such menopause symptoms as sleep disturbances, night sweats, and mood swings.
"Don't Pause has saved me from menopause symptoms. It was getting frustrating for me because I could never make plans due to the fact that I didn't know how I would be feeling. A friend gave me the gift of Don't Pause on my birthday, and it turned out to be the best gift I've ever received," said Lori, a satisfied customer from Miami.
Women interested in seeking relief from menopause and other common health conditions are encouraged to visit ANTIAGING Institute of California's website to learn more about Don't Pause and other products.
About ANTIAGING Institute of California: As its name implies, ANTIAGING Institute of California's goal remains to prevent, postpone, and reverse the signs of aging. Based in Beverly Hills, the company offers a number of natural vitamins, anti aging supplements, and creams to help people combat the effects of aging.