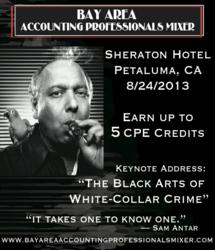 Join other local Accounting Professionals for great networking, engaging speakers, hors d'oeuvres, and wine while earning up to 5 CPE credits.
Petaluma, CA (PRWEB) May 23, 2013
Vibato is pleased to announce the Bay Area Accounting Professionals Mixer, a continuing professional education (CPE) event, to be held on Saturday, August 24, 2013 from 12:00pm-6:00pm at the Sheraton Sonoma County Hotel in beautiful Petaluma, California.
Keynote speaker Sam Antar, from Crazy Eddie Inc., will be flying in from New York to discuss his experience at the helm of one of the biggest securities frauds of the 1980's. His discussion, "The Black Arts of White Collar Crime," will touch on the details of his case and how white-collar criminals lure their victims such as attorneys, accountants, investors, and creditors by taking advantage of their psychological and cognitive vulnerabilities. As Antar states, "it takes one to know one." Antar now works closely with the FBI, IRS, SEC, & DOJ and will be discussing his work as an independent whistleblower and what you can do to spot and protect yourself from white-collar fraud.
In addition to Antar, there will be several one-hour learning stations including:

HANDS-ON WORKSHOPS: Teresa Bockwoldt, CIO & Co-Founder of Vibato, LLC, will be hosting two hands-on workshops where attendees will be led through documenting an actual financial risk assessment for a Sarbanes-Oxley, financial, or internal controls audit and a 930-point segregation of duties analysis using their own data.
IT WORKSHOPS: Trevor Hicks from the cast of the reality series, 'Dell Battle IT,' will be discussing "Strategic IT for Small Business" and "Info Security for the Small Business."
NON-PROFIT WORKSHOPS: Christina Hollingsworth, CPA, from Dillwood Burkel & Millar, LLP will be discussing "One Step Ahead of Creative Fundraising" and the "Value of Financial Statements in the Non-Profit World."
AUDIT WORKSHOPS: Audit Partners Paul Skeen & Mark Anderson from Hansen, Barnett & Maxwell P.C., will be flying in from Utah to discuss "Surviving your First Financial Audit" and "Seasoned Auditee? How to make the Audit Less Painful and more Affordable."
There will also be an area available for networking, with hors d'oeuvres and wine, where recent graduates, industry professionals, and prospective employers can connect in a relaxed social environment.
CIO & Co-Founder of Vibato, Teresa Bockwoldt, explains the goal of the event, "We are ecstatic to have assembled such a dynamic and engaging group of professionals who are eager to share their wealth of knowledge. With the incredible speakers, amazing food, and delicious wine, this will truly be a unique networking and learning event that is sure to become an annual favorite. We are expecting a large crowd so reserve your space early."
The event offers up to five hours of CPE for an early bird registration price of $59.00. Read more or register at http://www.BayAreaAccountingProfessionalsMixer.com
About Vibato: Vibato, LLC is dedicated to providing the most efficient compliance solutions available. Our mission is to help you reduce audit and compliance fees, improve financial transparency, and run your business more efficiently. For more information, please visit us at http://www.vibato.com, 1-888-4-VIBATO, or mail(at)vibato(dot)com.