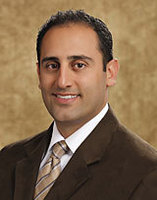 Van Nuys, CA (PRWEB) November 16, 2010
Selected for his experience, forward thinking, and highest quality of care, Dr. Barcohana is a prime example of all that a Leading Physician should be, and will be gracing the pages of this year's 2010 edition. As a board certified Orthopedic Surgeon, Dr. Barcohana provides the highest quality of care to his patients, while continually seeking to serve both the state of California, and the medical community.
Dr. Barcohana received his medical doctorate degree from the University of California at San Francisco. It is here that he gained interest in the field of Orthopedic Surgery. After performing his internship in General Surgery at UCLA, Dr. Barcahona completed his residency in Orthopedic Surgery at prestigious Stanford University
He continued his specialized training at The Southern California Orthopedic Institute, gaining expertise in various surgical techniques, and concentrating in complex spinal surgery involving the cervical, thoracic, and lumbar spine. Through his training and research, Dr. Barcohana has developed a unique interest in minimally invasive surgical techniques. It is through these highly innovative procedures, that Dr. Barcohana minimizes recovery time and post operative pain for his patients.
Dr. Babak Barcohana is continually striving for progress, and has lent his time and knowledge to numerous research studies. Beyond his clinical work, he is passionate for education and has published multiple scientific papers and continues to be a sought after lecturer in the field. He is an active member of the American Academy of Orthopaedic Surgeons, the American Medical Association, and the North American Spine Society.
Dr. Barcohana currently practices at The Southern California Orthopedic Institute, where he sees patients at both the Van Nuys and Valencia offices.
Dr. Babak Barcohana's devotion to his patients, and commitment to advancement in his specialty, is what makes him a Top Orthopedic Surgeon and Leading Physician of the World.
To find out more about Dr. Babak Barcohana, please visit http://www.scoi.com. Also be sure to look out for his upcoming publication in The Leading Physicians of the World.
About The Leading Physicians of the World
Published yearly, and distributed exclusively to members, physicians and healthcare institutions, The Leading Physicians of the World selects the top 1%-2% of each specialty to be featured in their yearly publication.
Representing over 100 different medical specialties in all major markets across the globe The Leading Physicians of the World, allows consumers to browse the biographies of the most distinguished and desired doctors from every field.
###