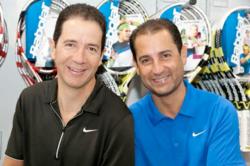 the Echavarria brothers are true champions for the Babolat brand...
Tennis Plaza named Babolat Retailer of the Year for 2011 (PRWEB) September 28, 2011
In 2000, when Babolat approached Leon and Felipe Echavarria to support the brand in its entry into the U.S. Market, the owners of Tennis Plaza were immediately sold. "From the beginning we liked the business philosophy, the way Babolat charts its course and doesn't follow other brands, the way the company takes its time to do things the right way, and of course the way retailers are protected through exclusivity and pricing policies," says Leon Echavarria, co-owner of TennisPlaza. Today, thanks to its continued and outstanding support of the brand, TennisPlaza has been named the Babolat Retailer of the Year.
"Leon and Felipe believe in our brand and it shows in the way TennisPlaza presents the products and how the staff really encourages customers to try them," says David Dwelle, southern regional sales manager for Babolat USA. "They carry the full breadth of the Babolat offering, from racquets and strings to bags and footwear, giving us great visibility—the Echavarria brothers are true champions for the Babolat brand."
TennisPlaza, formerly known as Racquet World, is one of the largest, most reputable tennis stores in the country. Based in Miami, Florida for more than 21 years, Racquet World is known for its wide selection, competitive prices, knowledgeable personnel, and dedicated service. With three retail stores in Florida (Miami, Doral and Orlando) and an online store (TennisPlaza.com), Leon and Felipe Echavarria, and their team are committed to serving an ever-growing tennis market with bestselling Babolat gear like the AeroPro Drive GT, Pure Drive Gt, & AeroPro Lite Gt tennis rackets.
Babolat salutes TennisPlaza, the 2011 Babolat Retailer of the Year.
###