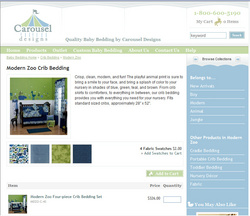 Atlanta, Georgia (PRWEB) June 7, 2008
Carousel Designs, an innovative leader in baby crib bedding and nursery décor for over 20 years, this week unveiled their redesigned website. The newly designed site, Babybedding.com, features detailed product imaging and enhanced usability. With thousands of crib bedding and nursery decor items offered, their collaboration with design firm Stephen Martin Design focused on clean navigation, increased "findability" and a pleasant user experience.
The website's new detailed imaging and image zoom features allow site visitors to get a close-up view of fabric colors, patterns and textures. Combining high tech and high touch, babybedding.com allows people to custom design and coordinate crib bedding products and accessories for their nurseries.
Along with the new website launch, Babybedding.com is introducing 14 new crib bedding collections and over 50 new fabrics to their inventory including Sock Monkey, Little Cowboys, Modern Zoo, Paris Kitty and French Angel Toile. Additionally, website visitors can sort and filter products by themes such as "gender neutral", "modern", "solid color" or "on sale".
Harnessing the technologies offered by Microsoft's ASP.NET development framework, Babybedding.com was able to quickly integrate advanced website features in a shortened development cycle. Phase II of babybedding.com, to be launched in July, 2008, will integrate their custom baby bedding offering with an interactive design-your-own baby bedding interface.
About Carousel Designs
Carousel Designs is a leading manufacturer of quality infant linens, crib bedding, nursery décor and accessories. Since 1988, Carousel Designs has designed, manufactured and distributed its original designs to better baby specialty stores and has twice been selected as the "Manufacturer of the Year" by two different independent retail buying groups. Carousel Designs offers online purchasing of their baby bedding and nursery décor via their website, babybedding.com.
# # #