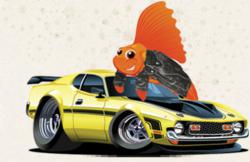 RoadFish.com also exposed another reason to stay on top of credit at every stage of life: to ward off identity theft.
Los Angeles, CA (PRWEB) May 12, 2013
RoadFish.com men's lifestyle and finance magazine today released their explanation on why the baby boomer generation shouldn't simply disregard their credit report and score once their mortgage has been paid off, or as they plan to retire. RoadFish.com's statement comes in response to this topic getting a fair amount of media press recently, and RoadFish.com offers some ways of thinking that haven't been considered yet.
Oklahoma's Broken Arrow Ledger, a semi-weekly newspaper published by Community Publishers, Inc., reported that keeping up a good credit profile is crucial at any age, including the baby boomer generation who may believe otherwise. The BA Ledger states that boomers who have paid off their mortgage, or who are retiring, might be inclined to believe that there is no use for their credit score any longer because of these reasons. The article states that other instances where boomers would need good credit are when purchasing a vacation home, or even in an emergency when credit is needed instead of cash.
RoadFish.com stated that contrary to some peoples' belief, retirement should not hurt one's credit score or be a factor in consumers blowing off their credit. RoadFish.com's Senior staff writer is quoted as saying, "Don't get nervous that your credit score will drop when you retire, and then let that worry cause you to neglect it. The fact that you have been using credit for a long period of time is actually beneficial, since age of credit accounts is a factor in determining score. That's an advantage that younger folks don't have. Also, lower income like on a retirement level has nothing to do with factoring somebody's credit score. So as long as you're managing your money properly, it should have no affect on your score."
The above-mentioned BA Ledger points out that even if a baby boomer doesn't plan on borrowing money again in his or her lifetime, whether to buy a vacation house, RV or boat, there are other instances where having a good credit score is still necessary. The article points out that needing to take out a student loan for a family member could come up, or if a boomer decides to go back to work for a little bit his or her credit might get checked by a potential employer. The BA Ledger warned boomers that credit scores are used for much more than simply issuing credit.
RoadFish.com also exposed another reason to stay on top of credit at every stage of life: to ward off identity theft. RoadFish.com's Senior staff writer is quoted as saying, "When people think their credit score no longer matters, it can be tempting to stop checking your credit report too. Because, after all, the credit report is what determines the credit score. But that's really only one part of it. It's a good idea to check your credit report at least once per year to make sure there are no open accounts on there that you yourself did not open up. If there is some activity on there that looks fishy, or that clearly does not belong to you, it's a pretty good sign that you are the victim of identity theft. And yes, it can happen to everybody from college students to middle aged moms and dads to retired folks. The sooner you catch this, the better. So remember, it's not all about the score; it's also about protecting yourself."
About RoadFish.com:
RoadFish.com is a well-liked online publication that keeps up with the latest events in online dating, managing personal finances, and food and restaurant reviews. It is geared towards male readers in their 30's and 40's who have experienced moderate success in life and enjoy setting and meeting new goals for themselves. In addition to lifestyle articles, RoadFish.com writes about financial advice as well such as debt management, budgeting, and current events in finance like VantageScore omitting paid collection actions on credit reports. RoadFish.com is owned and operated by Purpose, Inc.