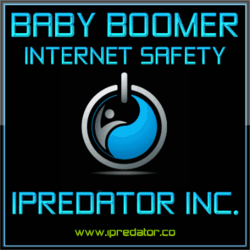 30 Baby Boomer and Older Adult Internet Safety Tips Available to Download at No Cost or Personal Information Required. iPredator.
Hudson Valley, New York (PRWEB) June 19, 2013
Internet safety and cyber attack prevention are areas rapidly becoming mandatory skill sets for all online users living at the beginning of what is called the Information Age. Although the internet is young in age, the nefarious and malevolent elements seeking to victimize the innocent are avid enthusiasts. The online populations they often target are children, older adults and those characterized as discouraged, distressed, unaware or internet safety ignorant.
Information and Communications Technology (ICT) offers many wonderful benefits to Americans of all ages and from all walks of life, but it is paramount to identify, prevent and thwart the malevolent and nefarious entities that seek to harm those deemed vulnerable. Michael Nuccitelli Psy.D., C.F.C., a New York State licensed psychologist, certified forensic consultant and author of the Information Age Forensics construct, iPredator, is available at no cost, to provide internet safety and social media safety strategies specific to Baby Boomers and older adults.
Baby Boomer Internet Safety Tips Webpage:http://www.ipredator.co/cyber-risk-tips/baby-boomer-internet-safety/
In addition to being skilled at discussing cyberbullying, cyber harassment, cyberstalking, cybercrime, online sexual predation and adolescent internet culture, Dr. Nuccitelli is also adept at teaching older folks effective internet safety strategies. Not only have Baby Boomers spent less time connected to information technology than their younger peers have, but their years of pre-Information Age beliefs in a sense of community and charity have made them particularly vulnerable.
Increasing the Baby Boomer's victimization potential is having greater financial latitude, fewer interpersonal and intimate relationships and more time spent alone with only the internet to provide them social, intellectual and psychological stimulation. Taking these factors into account, Dr. Nuccitelli has compiled Baby Boomer internet safety concepts and tips specific to their developmental challenges. For the older adult online user, cyber attack prevention and internet safety closely mirror the tactics recommended for all online users, but vary slightly in approach and focus. Central to all iPredator Inc.'s products, services and educational materials is Dr. Nuccitelli's iPredator Construct. His definition is as follows:
iPredator: A child, adult, group or nation who, directly or indirectly, engages in exploitation, victimization, stalking, theft or disparagement of others using Information and Communications technology (ICT).. iPredators are driven by deviant fantasies, desires for power and control, retribution, religious fanaticism, political reprisal, psychiatric illness, perceptual distortions, peer acceptance or personal and financial gain. iPredators can be any age, either gender and not bound by economic status, race or national heritage.
iPredator is a global term used to distinguish anyone who engages in criminal, deviant or abusive behaviors using ICT. Whether the offender is a cyberbully, cyberstalker, cyber harasser, cyber criminal, online sexual predator, internet troll, cyber terrorist and engaging in nefarious cyber deception, they fall within the scope of iPredator. The three criteria used to define an iPredator include:
I. A self-awareness of causing harm to others, directly or indirectly, using ICT. II. The intermittent to frequent usage of ICT to obtain, exchange and deliver harmful information. III. A general understanding of Cyberstealth used to engage in criminal or deviant activities or to profile, identify, locate, stalk and engage a target.
Unlike human predators prior to the Information Age, iPredators rely on the multitude of benefits offered by ICT. These assistances include exchange of information over long distances, rapidity of information exchanged and the seemingly infinite access to data available.
As stated by Dr. Nuccitelli, "The Baby Boomers of the past fought for social, economic and political equality for the disadvantaged. Unfortunately, the Information Age is undoing these accomplishments by creating a sociological and psychological disconnected generation eerily similar to what they fought so hard to change."
About iPredator Inc.
iPredator Inc. is a New York State based Information Age Forensics Company founded to provide educational and advisory products & services to consumers and organizations on cyberbullying, cyber harassment, cyberstalking, cybercrime, internet defamation, cyber terrorism, online sexual predation and the new field the founder is pioneering termed, Information Age Forensics. Created by a NYS licensed psychologist and certified forensic consultant, Michael Nuccitelli Psy.D., C.F.C., their goal is to reduce victimization, theft, harm and disparagement from online assailants.
Contact:

Michael Nuccitelli Psy.D., C.F.C.
NYS Licensed Psychologist
C.E.O. iPredator Inc.
347-871-2416
Website: http://www.iPredator.co