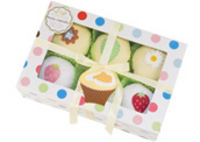 Pottstown, PA (PRWEB) December 11, 2008
Baby pajamas have never been sweeter. The Baby Bunch, an innovative retailer of baby presents, announces a new line of baby pajamas packaged to look like an adorable box of cupcakes.
Super-soft and 100% cotton, baby boys and girls will sleep soundly in The Baby Bunch infant pajamas. A solid pajama top--pink for girls and blue for boys--and adorable matching striped pajama bottoms are rolled to look like a cupcake and "garnished" with a decorative flower or fruit. The cupcake pajamas are then placed into a dotted bakery box with a crystal clear window and tied with a ribbon.
The charming presentation makes Baby Bunch pajamas a unique gift for babies. Parents can keep the cute magnetic clasp bakery box as a keepsake. Sized generously for twelve months, the pajamas can be worn by a baby up to approximately 20lbs. This is an affordable baby gift at $19.95 that will stand out from the crowd.
The Baby Bunch has several other cupcake-themed baby onesies. Blue, pink or yellow baby onesies are boxed in sets of two, four or six cupcakes.
About The Baby Bunch:
The Baby Bunch's line of baby gifts combines practicality with presentation. The company's signature gift is the Baby Bunch, a blooming baby clothes bouquet enhanced with recycled wood rosebuds and leaves. Launched in 2006 by Simon and Bryony Martin after the birth of their first son, the company is family owned and operated. Response to The Baby Bunch has been fantastic; in October 2007 Bryony, pregnant with her second son, appeared on Martha Stewart and shared the secrets to crafting a Baby Bunch.
###