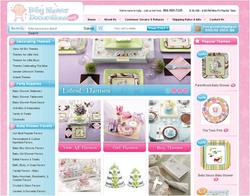 One area we've invested heavily in terms of website functionality is our support for personalized items
Enumclaw, WA (Vocus) May 8, 2010
Puakea Group, Inc., an operator of specialty e-commerce party supply websites, today announced the launch of BabyShowerDecorations.net. The new site is devoted exclusively to the needs of people planning and hosting baby showers. This newest web site showcases over 2,000 baby shower party decoration items, and features over 55 baby shower decorating themes to help people create the perfect event.
"We are excited to launch this latest website property. It is our 4th online retail store, and we've had great success with our other milestone specific celebration sites, so we're implementing what we've learned with our other properties into this new venture," said Puakea Group, Inc., Chairman Edward Hechter. "Our objective is to create the best destination e-commerce web site for people planning baby showers. With over 2,000 products, and 55 decorating themes, we have what we believe is the best selection of any on-line retailer, plus we offer unparalleled service at discount prices."
The new Baby Shower Decorations website launches this week, and features sections and categories devoted to decorating themes, party favors, gifts, and accessory items. The decorations section includes a wide variety of party supplies, tableware, centerpieces, stationary, and keepsake items.
"One area we've invested heavily in terms of website functionality is our support for personalized items" says Puakea Group General Manager Traver West. "We are striving to create a one-stop shop for personalized baby shower favors, and are looking to help the hosts for these events create a truly memorable event for the expectant mother and the guests alike."
By leveraging Puakea Group's strategic supply chain relationships with industry leading manufacturers, BabyShowerDecorations.net is able to provide its clients with unmatched product selection, while offering discount pricing and free shipping offers. The combination of purchasing power and shared infrastructure creates a customer service platform that gives the venture a true competitive advantage.
Over 55 different baby shower themes are offered on the e-commerce site, almost all of them including coordinated decorations such as invitations, party supplies, centerpieces, tableware, and favors. Shoppers will find the shopping experience easy and simple, with theme categories crafts for boys, girls, gender neutral, and themes celebrating the expectant mother.
About Puakea Group, Inc.:
Puakea Group, Inc operates four on-line retail party decoration websites specializing in theme based decorating packages for baby showers, bridal showers, and children's birthdays. Located in Enumclaw, Washington, Puakea Group is operated as a family friendly employer, creating job opportunities that allow staff to have the flexibility to devote time to their families, children's projects, and community service endeavors. Puakea Group has been growing steadily since its founding in 2007, and its retail websites have served over 100,000 customers in the past 4 years.
All trademarks used are properties of their respective owners.
###