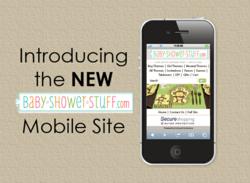 We make Hostess Heroes out of every event planner, no matter how busy their schedule is.
~Brenda Knutson, eCommerce Sales and Marketing Manager
Menomonie, WI (PRWEB) January 24, 2012
With hectic schedules and full to-do lists, shopping while in line at the grocery store or while waiting at the counter for coffee continues to increase, creating a demand for businesses to offer fully-functioning mobile sites. Realizing the number of shoppers using mobile platforms, BabyShowerStuff.com knew it was time to offer the same experience on mobile Web as they offer on their full site.
Event planners can now fulfill their entire list of baby shower decorations by accessing BabyShowerStuff.com's mobile site, complete with each baby shower theme offered on the full site. After choosing a theme, event planners can quickly personalize baby shower invitations, or any other product offering personalization, with the text line features.
"We make Hostess Heroes out of every event planner, no matter how busy their schedule is," says Brenda Knutson, eCommerce sales and marketing manager of all Big Dot Shops. "To effectively complete the Big Dot party planning experience, we had to offer a mobile site that was easily accessible from multiple devices as well as one that contained the exact functions of the main site. Then we went a step further and added a 'Click to Call' button at the bottom of every product page, allowing Hostess Heroes to personally contact our Expert Experts if they have questions."
With easy navigation buttons making it simple to keep shopping or checkout, an impressive selection of baby shower themes and Expert Experts waiting to assist with ideas, BabyShowerStuff.com's mobile site is a complete party planning experience from beginning to end.
About Big Dot of Happiness, LLC
Big Dot of Happiness, LLC, is an event party company and the originator of various games, invitations and themed party supply products called "Big Dot Originals." With personalized invitations, impressive party favors and unique party decorations, Big Dot of Happiness, LLC, makes everyday parties into extraordinary events. "We create remarkable smiles by embracing a remarkable culture."
Find Big Dot of Happiness on Facebook for inspiration and exclusive deals just for fans.
Contact:
PR Coordinator
Big Dot of Happiness, LLC
1.800.274.4282
http://www.bigdotofhappiness.com
###