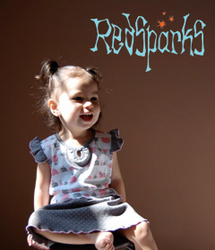 RedSparks has always been a dream of mine
Los Angeles, CA (PRWEB) July 30, 2008
RedSparks' online boutique, featuring hip and fashionable clothing (size preemie through 4T), nursery accents, developmental toys, books, new baby gifts and baby bath and body, was founded and launched by Aline and Matt Pfingsten in 2007. Since its inception, the couples' vision has enjoyed success, especially among the preemie segment, where fun and trendy clothes are particularly difficult to find.
The Pfingstens were motivated to open RedSparks http://www.redsparks.com after their now three-year-old daughter, Francesca, was born at 32 weeks, weighing three pounds, six ounces.
"RedSparks has always been a dream of mine," states Aline. "Having a strong retail background in the buying industry has provided me with a good foundation for this business. Frankie being born early just sort of helped clarify the path."
In addition to recognizing a need for a wide span of fashionable baby merchandise, Matt and Aline also wanted to provide something more to their customers than just products…support. It is with this in mind that they launched their newest venture "The Playpen in Motion," a monthly video segment on their blog of the same name complete with music and graphics.
"Our blog, The Playpen has been picking up some traffic recently," observes Matt, Aline's husband. "But one of the challenges we constantly face as online retailers is developing true relationships with our customers. In a brick and mortar environment, it's much easier to reach out to them and provide assistance and support. The Playpen in Motion will allow people to see and hear us, which we hope will provide faces to the names, and allow people to see we are serious about what we are doing. That's half the battle right there."
The Pfingstens have released two episodes of their video blog since its launch in January (an interview with Aline and a nautical-themed toddler snack called a Tuna Boat), but have many more episodes planned.
"At the end of the day," Aline says, "we want the whole business, blog included, to be more to new parents and preemie parents than just a place to shop. We want to be able to provide an environment for them where they don't feel alone. If one night a distressed mother of a premature baby happens to log on to RedSparks from the NICU, watch an episode of The Playpen in Motion, and actually laughs out loud, then we've done what we set out to do."
Redsparks operates in Valley Glen, California, and is dedicated to providing the most unique, high quality fashions, activities, accessories and toys to parents of preemies, infants and toddlers. For more information about the project, contact Matt or Aline at (888) 329-0336.
Contact:
Matt Pfingsten
RedSparks
(888) 329-0336
info @ redsparks.com
###