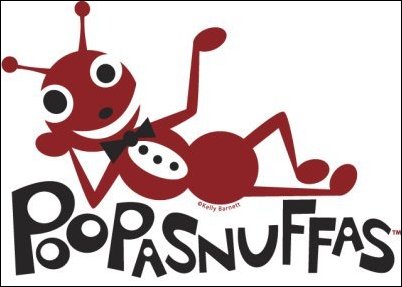 Art makes people happy. I want to make people happy, too. So, I make happy art
Newport Beach, CA (PRWEB) January 3, 2007
Poopasnuffas, a recently launched line of baby clothing, is encouraging children to write stories about the company's cast of characters. The Poopasnuffas collection of colorful, unique, cartoon characters exploded onto the infant and children's clothing scene in late 2006. Designed to make kids smile and melt parents' hearts, the fun and whimsical Poopasnuffas characters also excite children's imaginations. In fact, the Poopasnuffas characters' stories are written by children. PooPooMonkey™, PooPooDragon™, PooPooPuss™, PooPooPooch™ and PooPooPotamus™ have been brought to life by the enchanting artwork of Kelly Barnett, and their delightful stories created by children.
The Poopasnuffas concept is to inspire children to write great stories about fun and amusing characters and provide an online outlet to publish them. The children's stories are posted online, and all Poopasnuffas.com visitors can read the ongoing stories. When customers buy the bold screen-printed merchandise, Poopasnuffas ships the featured character story along with the product.
"Poopasnuffas has been a year long exploration of what we could bring to the children's market that was fun and different," says Angie Klee, founder of Poopasnuffas. "We had a focus group of children who gave us feedback on the character art. Their ideas were more creative and brilliant than we could come up with ourselves. This stroke of kid-genius has taken off in a big way."
The stories are really what bring the characters to life:
PooPooMonkey is a monkey who struggles in the jungle because he is afraid of heights.
PooPooDragon has a malady no dragon would want, instead of shooting fire out of his nose, he shoots water.
PooPooPotamus is a hippo who loves rolling in the pansies, but rolls into a tough spot when she wakes up in the big city, far from home..
PooPooPuss from Planet Furball is a lazy space cat with an amazing journey in Dogbone City.
PooPooPooch is on a quest for a cat burger, but a very wise wizard changes his course.
About this month's featured storytellers
Caleb L. and Kayla W. are the featured storytellers on the Poopasnuffas website this month at http://www.poopasnuffas.com. Caleb, the 7 year old story-telling prodigy, calls Gilbert, Arizona home. When he grows up, he wants to be an artist, firefighter and design characters/costumes for Hollywood movies.
Kayla is a middle-school student from Bend, Oregon who loves Harry Potter, AVP volleyball and eating sushi. The one person in the world she would like to meet is J.K. Rowling (author of the Harry Potter books). One day she hopes to become a marine biologist and a writer. She loves animals and will one day be responsible for saving them.
"Art makes people happy. I want to make people happy, too. So, I make happy art" says Kelly Barnett. Indeed he does! Poopasnuffas characters are perfectly-imperfect with googly eyes, silly features and always smiling faces. You can't help but grin when you see them smiling back at you. Kelly's artistic background includes 12 years as a greeting card artist with Hallmark Cards. For the past 6 years, he has been an artist for zak designs®, where they make licensed cups, plates, and silly straws for kids. Kelly lives in Spokane, Washington with his wife and two sons, making happy art.
About Poopasnuffas
Poopasnuffas baby clothing can be found in a growing number of specialty boutiques and at http://www.poopasnuffas.com. Poopasnuffas uses only the highest quality American Apparel® t-shirts made from 100% rib and jersey cotton. American Apparel has been applauded for their "sweatshop-free" mantra in the garment industry. All goods are produced in the United States in their downtown Los Angeles factory. These t-shirts are made to last and maintain their shape after washing. They are both comfortable and durable for the active toddler or child. Onesies (one-piece with three-snap seat) sizes include 3-6 months, 6-12 months, 12-18 months and 18-24 months. T-shirts sizes range from 2 to 12. All Poopasnuffas t-shirts come in a bright white color that makes the two-color character graphics pop. Poopasnuffas also ships worldwide.
Poopasnuffas is always exploring new ways to generate children's creativity. The company gladly accepts stories from children up to age 12. February 2007's story theme is "Silly Valentine" and the deadline for submission is January 28, 2007. Stories can be submitted about any character, but the story must have a Valentine theme. If your child's story is published on the website, he/she will receive a free Poopasnuffas t-shirt. Click on this link to learn specific details on submitting stories for consideration.
For more information about Poopasnuffas, please contact: info @ poopasnuffas.com, call 866.663.8912 or visit http://www.poopasnuffas.com.
###