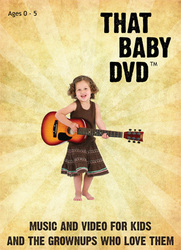 There is a hunger out there for children's products that are made with passion, not plastic
Mercer Island, WA (PRWEB) October 17, 2007
OyBaby LLC is pleased to announce the immediate availability of That Baby DVD and That Baby CD, two musical products designed for children 0-5--and the grownups who love them. Combining the timeless work of popular songwriters with rich, engaging visuals, That Baby DVD is sure to be one baby video that families can enjoy together.
That Baby DVD features hip acoustic cover versions of songs made popular by artists such as Fleetwood Mac, Neil Diamond, The Pretenders, Joni Mitchell, and 10,000 Maniacs. Each song is accompanied by a colorful music video featuring scenes of children at play, nature, animation, and puppets. That Baby CD includes the music of That Baby DVD, plus three additional songs, written by Bob Marley, The Beatles, and Paul Simon -- making it great for car rides, classrooms, and any place you feel like rockin' out as a family.
Upon previewing That Baby DVD, Alayne Sulkin, publisher of ParentMap magazine said, "That Baby DVD is new and different in the children's video category. The music is fantastic for both kids and parents. The visuals are creative, warm, and fun. Anyone looking for a truly unique children's gift will be happy to discover this gem."
"There is a hunger out there for children's products that are made with passion, not plastic," said company co-founder Rob Wolf, who filmed, edited, and animated the product. "What's really unique about That Baby DVD is that it's designed with the whole family in mind. Children are naturally drawn to the engaging vocals and visuals, while parents dig the fresh new versions of songs that they sang as kids."
Exceptional Vocals by Stephanie Schneiderman and Stars of the Portland Music Scene:
The music on That Baby DVD and That Baby CD was produced and arranged by Portland-based singer/songwriter Stephanie Schneiderman. Schneiderman has performed at the Lilith Fair concert tour in Portland, has songs featured on the WB, receives radio airplay around the country, and has opened for acts like Chris Isaak and Aimee Mann. Stephanie sings on most of the tracks and is joined on some by her sisters, Lisa Schneiderman and Kim Palumbis, as well as other members of the thriving Portland music scene including Pete Krebs, Jaycob Van Auken, Tom Grant, Tarshene Daugherty, and Michkael Baker.
Made in the USA -- by Parents:
OyBaby LLC was founded in 2003 by husband and wife team Rob and Lisi Wolf -- parents who know the value of quality children's products. That Baby DVD and That Baby CD are manufactured in the United States and packaged in recyclable materials. The company is proud to offer a "no questions asked" return policy and free replacement of scratched discs as two examples of its commitment to outstanding customer service.
That Baby DVD - MSRP $24.95
That Baby CD - MSRP $14.95
Available at http://www.thatbabydvd.com
Founded in 2003, OyBaby LLC creates and markets DVDs and CDs that delight children and the grownups who love them. From its humble "World Headquarters" in Mercer Island, Washington, the company has shipped 25,000 products to families in 49 states and 13 countries. The company's other products, marketed under the OyBaby brand, are DVDs and CDs made especially for Jewish children. That Baby DVD and That Baby CD are the company's first non-religious products. The company's products have been praised by publications such as The Seattle Post Intelligencer, The Oregonian, and The Jerusalem Post.
###